Agile organization and transformation
Agile development principles have revolutionized software development in recent years. They have made it possible to adapt development processes to changing conditions and make them faster, more adaptable and more efficient. Agile values, principles and methods are also rapidly gaining in importance beyond the IT sector. Especially in the context of digitization, the increasing integration between suppliers, service and product providers and customers as well as extreme flexibility requirements, an agile organization has high potential.
The approaches / frameworks originating from software development such as eXtreme Programming, Sprints, MVPs or SCRUM are therefore increasingly being adapted to projects from other corporate functions: The most important goals are to increase the speed of innovation, shorten project times extremely and to react quickly to trends, customer requirements and market changes. The greatest danger here is that the agility of individual projects or departments is often restricted by the non-agile organizational units surrounding them, so that the opportunities offered by agility cannot be fully exploited. Against this background, the transformation of classical structures into agile organizations (agile transformation) gains strategic relevance.
Agile transformation in particular affects the individual employees and managers who have to familiarize themselves with new roles, responsibilities, working methods, structures and tools. On the one hand, this includes working in interdisciplinary teams with a high degree of decision-making freedom and self-organisation. On the other hand, at the level of the overall organization, it is necessary to deal with topics such as business agility, flat organizational structure, portfolio management and capacity-oriented budgeting.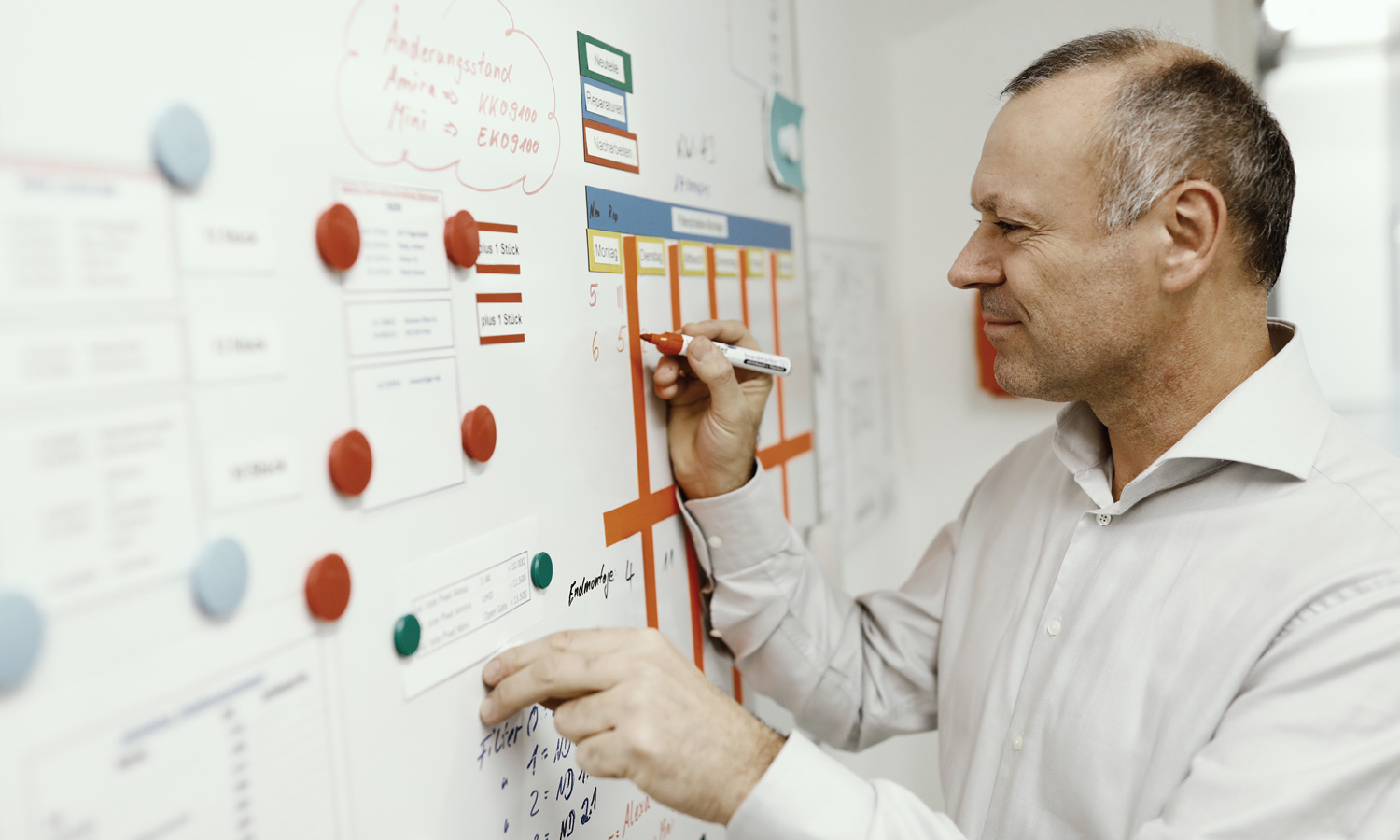 ROI has extensive experience in planning and actively supporting the company-wide agile transformation. By this we mean the holistic change of the company in the areas of processes, organization, strategy and culture, so that an effective adaptation to the complexity, volatility and dynamics of the environment is made possible. In doing so, we rely on a proven approach with the following focal points:
Agile Mindset: The prerequisite for success and sustainability of any agile transformation is cultural change. This requires that employees not only know and understand the process frameworks such as SCRUM, SAFe, LeSS or Nexus, but also recognize the general meaning and added value of agile methods through their own application.
Agile approach: The transformation project itself should also be designed and implemented as an agile project. Based on an analysis and the joint development of a vision and a target image, we guide and accompany companies through the transformation and continuously review the target course. Thus we change processes, organization, culture in a short cycle and in close cooperation with those responsible in companies and create a sustainable foundation of methods and tools.
Knowledge transfer: We accompany managers and employees of the company with intensive training and coaching. This guarantees successful implementation and target achievement. On the other hand, we ensure through intensive knowledge transfer that strong teams with an agile mindset and comprehensive methodological know-how are created that ensure that the initiated changes are sustainable.