The factory has always been at the centre of optimisation and innovation approaches in the manufacturing industry. The increases in effectiveness and efficiency promised by the use of IoT and Industry 4.0 technologies is also based on the processes and organisation of the factory – the Smart factory. The path to increasing quality and output with lower use of resources leads to a comprehensive concept of operational excellence, whereby the following elements have proven to be particularly beneficial:
Assistance systems relieve the physical burden on employees in the smart factory. This is done at a physical level, for example, by means of partially autonomous or autonomous transport and robotic systems or by networked digital solutions such as apps, factory clouds or augmented reality applications such as smart glasses.

The decentralised organisation in the smart factory is reflected in the dissolution of the hierarchical pyramidal structure in favour of a network aligned with the value creation process. This transformation reduces the control effort and allows largely autonomous coordination of the individual network elements and manufacturing-relevant software solutions such as ERP, MES or PPS. The basis for this is the use of M2M, RFID or smart OTS technologies as well as the equipping of the machines, workpieces and manufacturing rooms with sensors.

Real-time manufacturing and quality control allows real-time detection of central process parameters and a continuous comparison with sample values. In this way, countermeasures can be taken within milliseconds, which, for example, lead to significant reduction of downtime, a lowering of quality costs and prevention of machine damage.

Predictive maintenance combines statistical prognosis models with sensor technologies that dramatically reduce costs, because maintenance takes place precisely when it is necessary and production stops due to total failures are avoided. In addition, the analysis of operating data and load scenarios allows the optimal allocation of manufacturing resources and the avoidance of idle times or overload. At the same time, predictive maintenance approaches with condition monitoring systems can be combined for the permanent monitoring of particularly critical elements, which allows high availability of the machines at significantly decreasing costs.

An implementation-oriented big data strategy is the common basis for the intelligent Industry 4.0 and IoT technologies implemented in the smart factory. Thanks to these, the immense amount of data created in a smart factory can be efficiently and securely clustered, analysed and implemented in decision-making processes.

Digital twins are becoming increasingly important. Digital twins are virtual models that reflect physical objects and processes completely in real time, thereby allowing accurate predictions about performance, vulnerabilities, material fatigue, or other risks. They allow comprehensive transparency beyond the factory boundaries, so that suppliers and customers are also integrated in real time and the value chain can be optimised holistically with regard to structures, processes and resources.

Digital shop floor management in the smart factory uses resources, data and technologies available through networking and digitization to adapt organisation and processes to new working and manufacturing forms. Thus, the initiated changes can be effectively supported by consistent change management, sustainable qualification and effective management on site.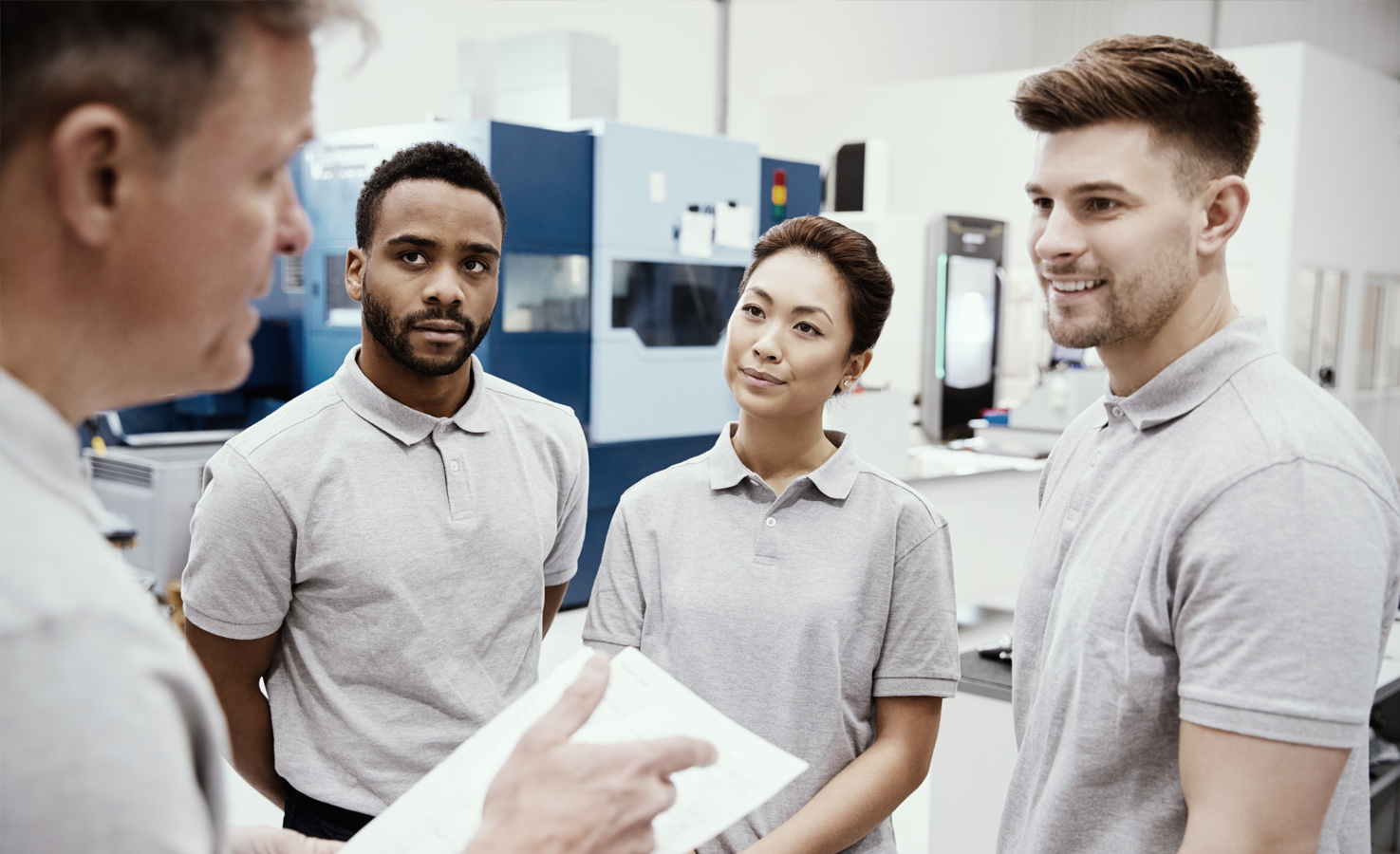 ROI has extensive experience in planning and implementing Smart factory concepts.Our practice-tested methodology has won multiple awards, including the renowned B2B service award in the category "Innovation" from analysts Lünendonk & Hosenfelder GmbH in 2017.
We focus in particular on the following topics:
Holistic smart factory concepts,
Technology and digitization roadmaps,
Integration of Industry 4.0 and lean approaches,
Design of the process and structural organisation,
Implementation of data analytics and data management,
Planning and development of digital twins,
Design and introduction of digital shop floor management,
intercompany integration and smart logistics,
Introduction of predictive maintenance and real-time control.