Boosting greenhouse gas reduction - Panel discussion & Roundtables
Are you facing the challenges of solidly implementing and fulfilling your GHG reduction program on the long run? We are gathering executive leaders to discuss the hot topic of "REDUCING YOUR GREEN HOUSE GAS".
Join our live event at the Port of Antwerp-Bruges, the sustainable lighthouse port of Europe. Enter the discussion to learn more on how senior executives tackled their challenges and found solutions.
In addition, executive board members of industrial companies will provide exclusive insights, how they realize their sustainability transformation in terms of GHG reduction.
The panel discussion will be followed by a roundtable session where participants will share experiences and ideas on the key topics of sustainability.
The panel discussion can be attended in person or via livestream, the roundtables will not be streamed (more information see below).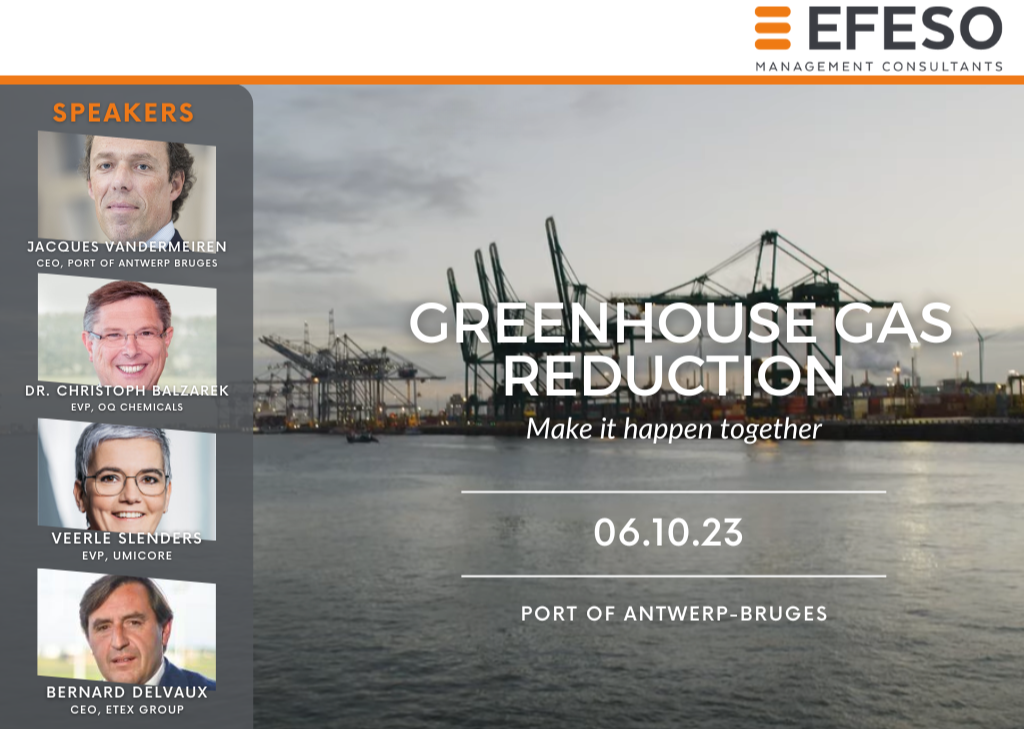 Why should you join?
Share companies' sustainability journey, the challenges (technical solutions, funding, commitment, …) they faced/are facing
Share and discuss possible solutions to overcome these challenges
Connect with each other and the other attendees ecosystems
Who is our audience?
CXOs and leaders from any sector or industry that would like to make a sustainable change in their company.

What is the program and how to take part?
08:00 – 09:00 am Welcome Reception
09:00 – 09:10 am Opening by Marcia de Troyer, VP, EFESO Group
09:10 – 09:30 am Keynote Speech by Jacques Vandermeiren, CEO, Port of Antwerp-Bruges
09:30 – 10:40 am Panel discussion (starting a sustainability transformation journey; biggest hurdles & levers; funding)* (speakers see below)
10:40 – 11:00 am Break / Networking session
11:00 – 12:30 pm Roundtables**
1. Green energy (energy efficiency & energy purchase)
2. Green breakthrough innovation (R&D & technology)
3. How to set up a recycling eco system (including green supply chain – transport)
4. Making the right capex investments, taking cost & GHG into account
5. Best practices
12:30 – 12:40 pm Closing
12:40 – 14:00 pm Lunch
*The panel discussion will be a live event at the port of Antwerp-Bruges. There will be the option to attend virtually as well. The roundtables will not be streamed.
**If you attend the panel on-site, you can join the roundtables and deep dive with your peers on the topic you are interested in.
After your registration we will personally get in touch with you, to confirm your seat at one of the roundtables you are intersted in.
Live on stage
Panel speaker
Jacques Vandermeiren, CEO, Port of Antwerp Bruges
Jacques Vandermeiren has been CEO of the Port of Antwerp Bruges since January 2017. Until January 2015, he was CEO at listed Belgian power grid operator Elia, where he held various leadership roles since joining in 2001. Prior to that, Vandermeiren spent eleven years as Senior Advisor Strategy Direction at energy company Electrabel.
Jacques Vandermeiren has held various directorships, including the Federation of Belgian Energy Companies (Febeg) and the Federation of Belgian Enterprises. He holds a Master of Laws degree, which he later extended with a Master in European Studies, a Middle Management course at Vlerick Business School and an Advanced Management program at Insead Business School.
Read more about the award-winning sustainable transformation and development of the Port of Antwerp-Bruges into a major European hydrogen distribution hub.
Dr. Christoph Balzarek, EVP, OQ Chemicals
As Executive Vice President, Dr. Christoph Balzarek is responsible for Corporate Development, Sustainability and Innovation at OQ Chemicals. Previously, he headed the technology center of the energy company OQ, which was newly founded in 2020.
At Oxea GmbH, which was integrated into OQ in 2020, Dr. Balzarek served as Vice President Innovation & Technology and in other leadership positions. He holds a PhD in Chemistry from the University of Oregon and an MBA from the Naveen Jindal School of Management at UT Dallas.
Watch the video on how OQ Chemicals is going to reach climate neutrality by 2050: http://www.net-zero-2050.eu/
Bernard Delvaux, CEO, Etex Group
Bernard Delvaux has over 30 years of experience gained across the aerospace, postal, telco, consulting and manufacturing industries. He has a track record in strategic transformation, leading large teams and managing complex relations with unions.
Mr. Delvaux joined Etex as Co-CEO in 2021, and as of January 2022, he holds the role of the CEO.
Veerle Slenders, EVP, Umicore Recycling
Veerle Slenders has nearly 30 years of experience in various leadership roles in Europe and in the United States. She has a proven track record in business development, operations management as well as in general and portfolio management in the electronics, aviation, oil and gas, steel and chemicals markets.
Ms. Slenders has a solid experience in safety, health, environment and quality management. She is strongly committed to diversity, inclusion and community engagement, demonstrated by her contributions to non-profit organizations.
Event moderation
Marcia De Troyer, Vice President, EFESO
Marcia De Troyer is with EFESO since 2004 and Vice President since 2016.
Her consulting focus is on Management of large transformation and change programs, Definition of progression management approach, Setting and following-up leadership track, Coaching of the management team, leaders, operational teams and team members. She has a proven record of 20+ years within the consulting industry. Being the industry lead for sustainability, transforming the international industry to a green future is her primary goal.
Location
Port of Antwerp Bruges & Livestream
Zaha Hadidplein 1
2030 Antwerp, Belgium
Date
06.10. until 06.10.2023
from 08:00