ROI-EFESO - CURRENT TOPICS & NEWS
Articles and interviews on current professional, technological and industry challenges, information on our consulting services, seminars and events as well as corporate topics:
Here you can find out what moves ROI-EFESO. We look forward to talking to you!
Contact person:
Anna Reitinger
Head of Marketing, ROI-EFESO
Phone: +49 (0)89-121590-0
Mail: reitinger@roi.de
HOW TO SURVIVE A BLIZZARD OF CHANGE
THREE FIELDS OF ACTION FOR SUSTAINABILITY STRATEGIES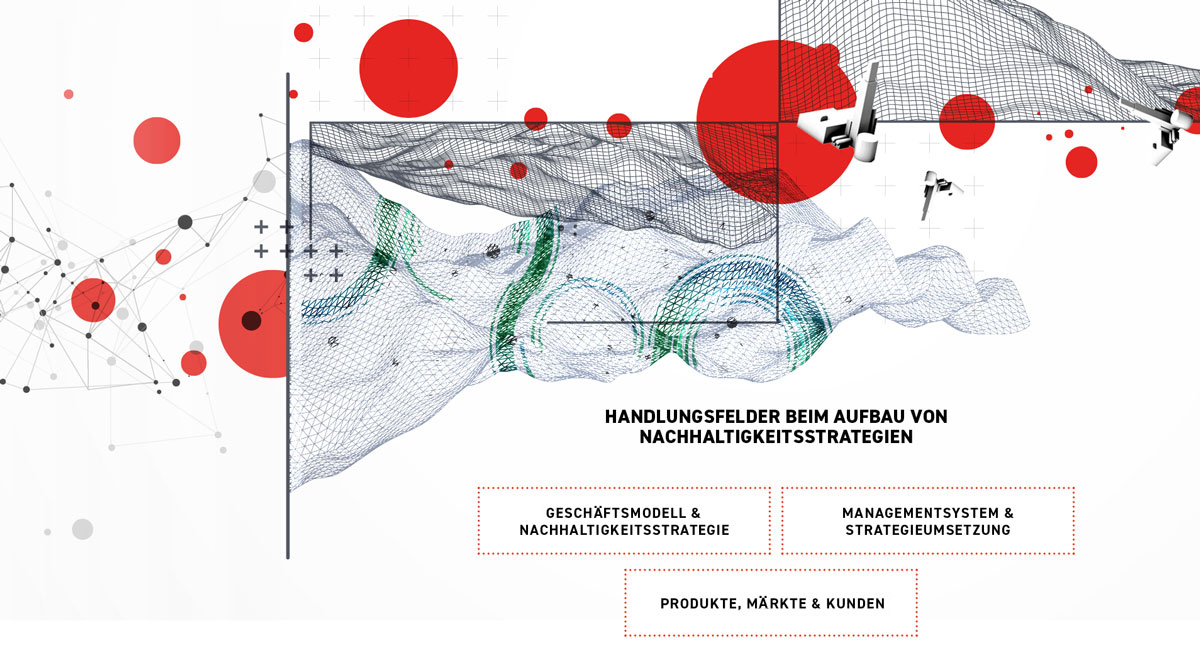 TAKE YOURSELF BACK TO THE EARLY 2000S FOR A MOMENT:

With Blackberry and iPod, you were way ahead technologically, ego googling was considered a popular sport, and in the company, the web presence and IT skills were suddenly highly strategic topics. Those who recognized the dawn of digitization then sometimes hired a few programmers in the hope that they were now optimally positioned for the future.
The situation is similar today when sustainability officers are tasked with reconciling economy, ecology and CSR in the "green" transformation of the company. That's a start, but of course it's not enough to do justice to the task. Like digitization, a focus on sustainable business promises to change our world in a serious way. And once again, many companies are reluctant to tackle the challenge that actually requires a radical realignment.
This is sometimes, since not every sustainability aspect has the same significance for every industry. Energy-intensive industries such as the chemical, steel or automotive industries, for example, have been dealing with issues such as CO2 prices and costs for some time and have to make sustainability criteria transparent in their annual reports. Accordingly, they have a higher degree of maturity in the operational implementation of "green" strategies than companies that are still at the beginning of this development. And unlike in the past, Industry 4.0 technologies, in combination with lean management and operational excellence (OPEX) initiatives, can quickly deliver significant results in recycling, CO2 reduction, or raw material savings.
PREPARING FOR A NEW WEATHER PATTERN: PREMISES FOR SUSTAINABILITY STRATEGIES
Where do manufacturing companies best start in the (further) development of their sustainability strategy in order to bring the complexity of the topic into a results-oriented structure? Here, there is a clear empirical value from our projects: First, you should get an overview of whether and how the topic is already anchored in the company. Only on this basis can you really assess whether measures can be implemented effectively. With our "Sustainability Assessment", we are looking at this from two angles: Firstly, via a "bottom-up" sustainability assessment of the value chain. Here we examine, for example, how product development, operations or supply chain management are positioned about global trends such as resource efficiency, circular economy or transparency.
On the other hand, a "top-down assessment" provides answers to two important questions: How important is sustainability in general within the company? How is it already considered and implemented in internal processes, for example on the basis of concrete KPI targets? This perspective quickly brings to light (improvement) options for sustainability initiatives. Experience shows that these initiatives can then be clustered and implemented in three fields of action.

BUSINESS MODEL & SUSTAINABILITY STRATEGY
In May 2021, a Dutch court caused a turning point in dealing with companies that have little motivation of their own for the topic of sustainability: It obliged the Royal Dutch Shell Group to emit only around 55% of the amount of CO2 emitted in 2019 in 2030. This forces the company to change its business model and sends a clear signal to the industry that a rethink must take place in order to remain competitive. While the oil industry may be a special case - no company can assume that climate change or supply chain laws will not impact its own business model. When integrating business model & sustainability strategy, the following starting
points, among others, are helpful:
Use OPEX as a starting point!
Companies that have already reached a high level of maturity regarding OPEX should use this as a starting point for formulating and implementing their sustainability strategy. After all, OPEX measures are already aimed at increasing resource efficiency and reducing or avoiding waste of all kinds. Here, it is important to think beyond OPEX: Could my waste be a raw material for another company? Which existing key figures, e.g. on raw material and energy consumption, could be used to define sustainability KPIs?
Question your business model!
In addition to energy consumption and possible environmental impacts in production, the manufactured goods or the associated business model should also be scrutinized. Those who manufacture and sell machines today, for example, may generate more profit in the future through leasing models in combination with services: The customer leases or rents the machine and pays for maintenance and optimization by the manufacturer.
In line with the closed-loop concept, this increases the useful life of the machine, improves the efficiency of its use, and ideally generates more profit for the manufacturer. Because if the manufacturer is also responsible for maintenance and optimization, it can in principle access the operating data of all machines in circulation - and thus implement maintenance and optimization better than an individual user of a machine could. This has a positive effect on the downtime of the machine and thus also a positive effect
on the utilization time.
Share and network production capacities!
Another potential closely linked to a realignment of the business model is the utilization of production capacities. When orders fluctuate, lines are sometimes underutilized, leaving production capacities idle. Free capacities could therefore be sold to other manufacturers whose production has to cope with a surplus of orders. This would also allow production capacities to be optimized and used more efficiently on a macroeconomic level. However, this model is more suitable for companies that have a regional network and only short transport distances or expenses - otherwise the positive energy balance in machine utilization can quickly be offset by a "minus" in fuel consumption in logistics.

MANAGEMENT SYSTEM & STRATEGY IMPLEMENTATION
Regarding the field of action "Management system & strategy implementation", the first question is: Who is responsible for the topic of sustainability in the company - a staff unit or a member of the management? This influences the significance of sustainability initiatives and thus their impact on sustainability performance. However, it is also true that the more visible and transparent challenges and results are, the more relevant the topic is for C-level decision-makers. In this context, the following points, among others, should be considered:
Visualize and compare results!
The actual impact of sustainability measures in production and other areas can be measured using a system of key performance indicators. In addition to electricity and water consumption or CO2 emissions, KPIs such as the number of occupational accidents and the proportion of women in the workforce or in management positions are also relevant for each site. Manufacturing companies should also relate the production-relevant KPIs to the quantity of products manufactured in order to quantify the environmental impact as a function of economic performance.
Ideally, the system will not only enable targetsand comparisons at the site level, but also down to the functional or departmental level. Such benchmarking in turn plays a central role in incentivizing sustainability initiatives. In best practice cases, measures are also stored for the event that one deviates from one's goals or does not achieve the desired effect with the current approach.
Connect digitization and Isustainability initiatives!
In the context of the aforementioned points, digitization brings two major benefits: first, an improvement in transparency at the operational level, because if you know the current consumption values and process flows of each machine precisely, you can improve them accordingly. Secondly, the complexity of the system resulting from the quantity of individual components can only be monitored, controlled, managed and ultimately optimized by digital solutions.
Further potential for improvement also quickly becomes apparent in other cases, such as more precise coordination of the machines with each other. If, for example, one machine requires heat while another provides it, this can be synchronized. Another advantage is to make the power requirements of the machines transparent. The data collected not only provides more precise information on power consumption,but can also be used to identify weak points, errors or failures in the system. If a machine consumes more power than normal, this can be an indication of wear and tear and thus provide a timely "warning signal" of a possible machine failure.
Use lifecycle analytics to make better decisions!
Does the installation of a photovoltaic system on the factory roof bring the optimal "green ROI"? Or are better results achievable if the company car fleet and all vans at the site are "electrified" instead? These and similar questions, which involve a high degree of complexity in implementation, can be answered with the help of life cycle analyses. These quantify, for example, the impact of the measures on CO2 emissions over the next ten years and thus enable rapid decision-making for the ultimately more suitable measure.

PRODUCTS, MARKETS & CUSTOMERS
Another key area for action is sustainable product design. After all, the increasing demand for consumer goods can also be met with limited resources - provided they are used correctly, put into a recycling cycle or completely replaced by more suitable alternatives. When aligning sustainability strategies in this context, the following points of orientation are relevant, among others:
Develop "smart" products!
Whether it's a machine, a sneaker or a frozen pizza - for every product, it is possible to break down and change the resources used. However, the ecological footprint of the product is not only determined by the raw materials used, but also by the routes they take - both in the manufacturer's supply chain and later at the end customer and in the disposal/recycling process. Switching to locally available raw materials or materials can therefore already have a significant impact on the sustainability balance in terms of CO2 emissions. A "smart" product design takes these paths into account, among other things, but also how much energy must be used to manufacture the product.
Take a clear position in the market!
The clear focus of automotive manufacturers on the issue of sustainability is an example of the traction that such positioning has. Regardless of whether this is motivated by government requirements or economic interest - a commitment to CO2 neutrality sends a clear signal to suppliers, partners and the end customer. Suppliers must expect to be questioned about their CO2 reduction efforts - both by the client and by other stakeholders. The pressure to act and provide clear information quickly has the positive effect that sustainability issues are treated more consciously and with greater priority within the company.
Think in global terms!
Evaluating one's own product portfolio under sustainability criteria is an important step. But significantly more is possible if the global challenge of achieving climate targets is understood as a market with new opportunities. For example, what products can be developed to capture CO2 from coal-fired power plants, store it and make it available to the economy in other materials? There is also great potential for energy storage for surplus renewable energy, as well as means of transport that run on green hydrogen, green ammonia or other e-fuels. These fields of action provide an initial impression of what changes are possible and necessary in the company. Like digital transformation, it is important to avoid actionism. This means that attention, time and money should not be arbitrarily invested in many small projects across the board, but should first flow into targeted prioritization: Which areas in the company hold thegreatest "levers" for CO2 reduction? What
measures will bring what results there in the short and long term? This can already alleviate the pressure to act in the short term with reduced emissions, a higher recycling rate or lower energy consumption.