ROI-EFESO - CURRENT TOPICS & NEWS
Articles and interviews on current professional, technological and industry challenges, information on our consulting services, seminars and events as well as corporate topics:
Here you can find out what moves ROI-EFESO. We look forward to talking to you!
Contact person:
Anna Reitinger
Head of Marketing, ROI-EFESO
Phone: +49 (0)89-121590-0
Mail: anna.reitinger@roi-efeso.com
Kick-off for the ESG reporting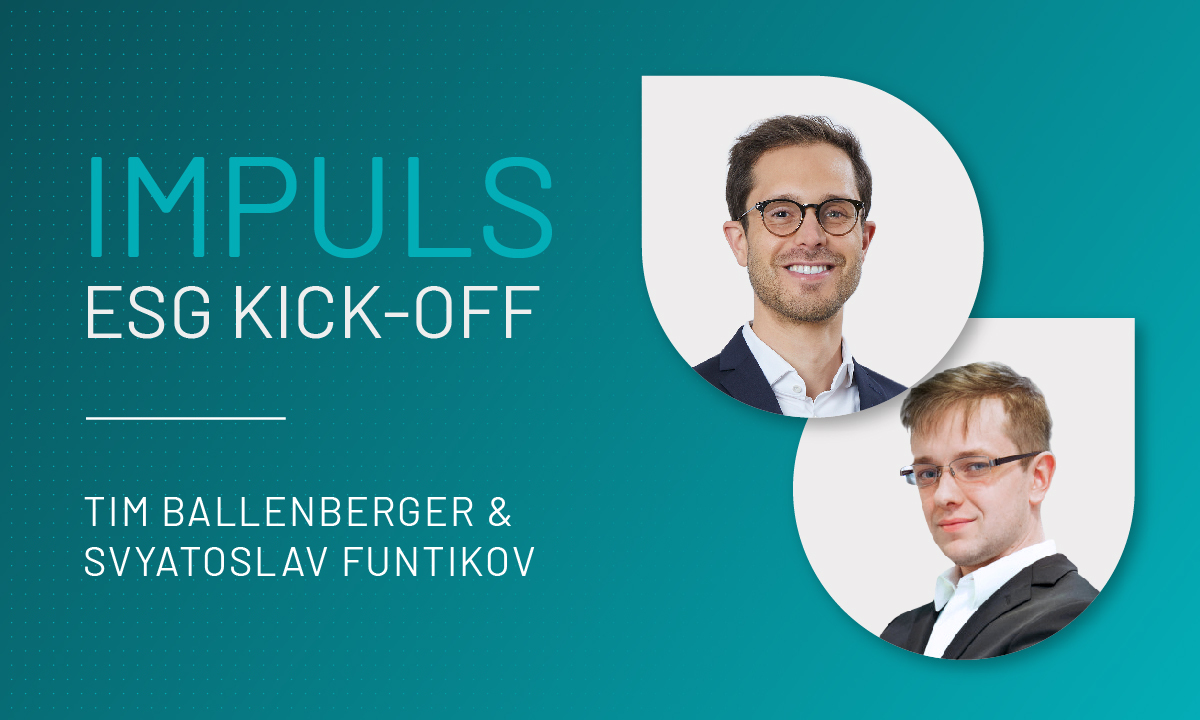 Core elements of a sustainable business organization
By Svyatoslav Funtikov and Tim Ballenberger, ROI-EFESO
In many companies, the topic of "sustainability" is closely associated with topics like saving emissions and energy or the raw material sourcing. Above a certain scale of value creation processes, however, the various facets of a sustainable transformation can quickly become unmanageable. In order to prevent this, best practice companies are guided by the ESG criteria (Environmental, Social, Governance) and introduce an appropriate reporting.
Providing orientation
In addition to the complexity of the regulations, the detailed elaboration of the reporting requirements should not be underestimated: which ESG criteria are important for your own company, for example with regard to sanctions or penalties? Where are risks of damage to the company's image/reputation in the event of non-compliance? In addition, the benchmarks for ESG reporting vary according to very different criteria such as location, number of employees or turnover. A viable governance and communication structure therefore emerges from addressing these issues:
Which standards are to be applied in order to be able to evaluate the company's performance?
Which sustainability KPI are crucial for the core business?
What convinces the shareholders regarding a sustainability strategy?
This creates and raises awareness for the action dimensions of the transformation. In addition, orientation in the guideline jungle is necessary: the guidelines and standards, which are crucial for the company, should be identified. In addition, existing guidelines should be updated, such as the GHG Scope 1,2 &3 or the Supply Chain Sourcing Obligations Act (Lieferkettensorgfaltspflichtengesetz - LkSG, see chart 1).
Figure 1: "Core elements of a sustainability strategy"
Demonstrating compliance
Legal requirements thus set the pace for transformation and serve as guidelines for an ESG reporting. The Corporate Sustainability Reporting Directive (CSRD), which came into force at the beginning of 2023, must be taken into account here. This is intended to equate the financial targets with the sustainable targets of a company at reporting level on the basis of high standards – for example, in order to avoid greenwashing.
The CSRD is to be understood as an extension of the already valid Non-Financial Report Directive (NFRD). After all, sustainability aspects can also be financially relevant. The legislator's intention is, among other things, to close gaps in reporting, to increase reporting requirements and to oblige more companies to do so. Therefore, companies should know which aspects of the directives are important for them (see chart 2).
In the future, the evidence of ESG responsibility will be verified by independent accreditation bodies. Validators can be, for example, auditors with a corresponding additional qualification or other certified audit service providers. They have to ensure that the sustainability-relevant information is in line with established EU standards. To do this, they take a close look at a company's sustainability reporting.
Even companies that have not been affected so far, should therefore already get informed about NFRD to gain the first insights into the new standards. With the entry into force of the new CSRD directive, the already existing requirements according to NFRD will be expanded and tightened. So, CSRD equates sustainability reporting with financial reporting by including the NFRD. The current requirements of the NFRD concern:
Ecological aspects
Social aspects and treatment of employees
Respect for human rights
Combating corruption and bribery
Diversity in C-Level
According to the new CSRD standards, all EU companies are audited which meet at least two of the following three defined criteria: there are more than 250 employees in the company, net sales exceed EUR 40 million and / or there are at least EUR 20 million in assets. Non-EU companies with net sales of at least EUR 150 million in the EU and a subsidiary or branch in the EU are also required to report on sustainability.
Chart 2: "Classification of CSRD & NFRD standards for companies"
Acting multidimensionally
The development of an ESG reporting is closely linked to other areas of action that enable the initiation and further development of sustainability programs. Companies should focus on these areas as sources of metrics for their reporting:
1) Develop a sustainability strategy.
Define sustainability goals and KPI that demonstrate progress toward these goals. A transformation roadmap is a key element here, on areas such as a Future Factory, R&D, Supply Chain Management & Global Footprint. To become effective, sustainability and corporate strategy should be closely linked to each other.
2) Draft a data strategy.
This includes, among other things, the collection and analysis of data on sustainability performance. In addition, the systems / software tools to track and report on KPI must be purchased or developed as needed. This may involve conducting sustainability audits, collecting and analyzing data from multiple sources, and developing reporting frameworks and dashboards to communicate sustainability performance to stakeholders.
3) Engage stakeholders.
The goal: understand the sustainability concerns and priorities of employees, customers, suppliers, and local communities. In particular, building relationships with stakeholders can provide significant leverage for further collaboration to effectively communicate the company's sustainability performance and initiatives.
4) Build core competencies within the company.
Of course, not every employee can and must know every EU regulation. But the knowledge must be available in the company and represented in the right places in the processes. This is the only way to continuously improve the company's sustainability performance. Corresponding training for (further) qualification can start on a departmental basis or take place in the context of a departmental/cross-location change management for ESG transformation.
5) Implement governance and communication structure.
In addition to the elements mentioned, the establishment of an efficient governance and communication structure is critical to the success of ESG reporting. This is because it enables those who are responsible for the project or the managers to initiate changes that lead to clear results in terms of "sustainability". Ideally, this will succeed so well that the topic will become an integral part of the company's organization and culture in the long term.