ROI-EFESO - CURRENT TOPICS & NEWS
Articles and interviews on current professional, technological and industry challenges, information on our consulting services, seminars and events as well as corporate topics:
Here you can find out what moves ROI-EFESO. We look forward to talking to you!
Contact person:
Anna Reitinger
Head of Marketing, ROI-EFESO
Phone: +49 (0)89-121590-0
Mail: anna.reitinger@roi-efeso.com
Lean training center near Prague invites to an Open House event
Gain a view inside the 'Lean Factory' on May 28, 2014
The lean training center was set up last autumn. ROI's 'Lean Fabrika' near Prague allows managers and employees at all levels to experience and learn lean principles such as Kanban, 5S, SMED and value stream mapping (VSM) in a real working environment. The training courses, which can be tailored to meet customer requirements on request, are held in several languages.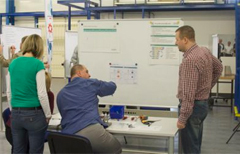 The Open House event on 05/28/2014 allows free entry and a quick insight into the training concept. Please find here the agenda.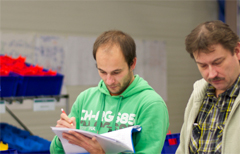 To attend the Open House event just register via e-mail at contact[at]roi-international.com.
Participation is free of charge.