ROI-EFESO - CURRENT TOPICS & NEWS
Articles and interviews on current professional, technological and industry challenges, information on our consulting services, seminars and events as well as corporate topics:
Here you can find out what moves ROI-EFESO. We look forward to talking to you!
Contact person:
Anna Reitinger
Head of Marketing, ROI-EFESO
Phone: +49 (0)89-121590-0
Mail: anna.reitinger@roi-efeso.com
MILESTONES FOR A GREEN TRANSFORMATION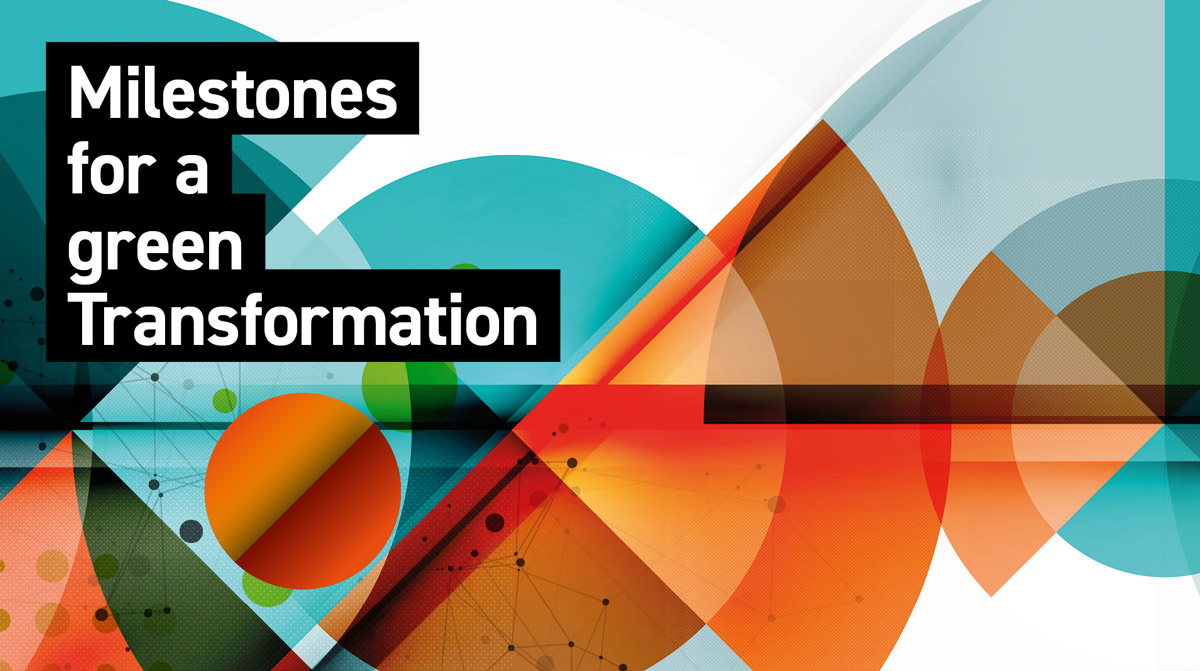 BEST PRACTICE: INTEGRATING A SUSTAINABILITY INITIATIVE WITH AMBITIOUS TARGETS INTO BUSINESS

IMAGINE, YOUR MANUFACTURING NEEDS A WHOLE OLYMPIC SWIMMING POOL OF WATER – EVERY DAY. AND BESIDES THAT, THE AMOUNT OF CO2 OF A 40.000 PEOPLE TOWN IS EMITTED ALSO DAY BY DAY. SOUNDS LIKE A SMALL DEMAND TO YOU?
Well, in this case it was not seen like that. Our client, a global player in the pharma industry, decided to reduce his entire CO2-, water, and waste consumptions by driving a cultural transformation. How serious the company was about this is made clear by the objectives of this sustainabilit y initiative: a reduction of 35% CO2 , 25% waste and 20% water by 2030 at the latest. They already were doing small projects lef t or right, but these targets could be described as aggressive rather than ambitious. So how could the entire operations be mobilized in working on that? This is where we came in.
A SHORT-TERM AGENDA FOR A LONG-TERM SUCCESS

The companies' requests was to set up a progression strategy and approach to engage management and employees to really start to create a transformation script. So we developed an approach for one pilot that we could test in a single plant. In case of success, this should be used for a global rollout to all the other plants and to the other departments. The project management process was clearly structured and well prepared: before the pilot started, the company already identified areas for reduction measures in a own assessment. On this basis, we tackled the following issues with the team responsible for the sustainability initiative in the company and developed appropriate solutions.
CO-CREATING A CLEAR ROADMAP FOR MEASURABLE RESULTS
At the beginning, we tested and fine-tuned our progression strategy with the pilot plant. Basically, we developed a roadmap and the scripts for the implementation. Later on, those scripts were implemented step by step by the companies' departments as well as in the other plants. This approach takes two key challenges into account that are typical for dealing with such big targets: how do you define them in concrete targets? And how can you engage management and employees in the plants in a most effective way? Usually, they have to reach targets every day. But a target like a reduction of CO2 with 35% in 2030 sounds so abstract that it is hard to feel committed to it. Together with the people of the pilot plant, we first defined the targets for the roadmap, but we also discussed how to identify concrete improvement opportunities.
ACTIVATING OPPORTUNITIES
The next step was to broaden the horizon of these opportunities. If people have worked all their lifes in one plant, they usually are not aware of other ways of working, other technologies that exist. So, we brought in experts that could bring in more innovative ideas. And based on that, we went to initiatives to see what the manufacturing team can do in the short and medium run, but also in breakthrough initiatives. Typically, in a plant, people work on the short term and the medium term and improvements. But in case of the breakthrough initiatives, it is very difficult to completely take distance and think about something completely new, if you've worked in a process for 20 years.
Based on that, we decided to split the roadmap in a ten-year frame and in a year-by-year perspective with more detail of the year to come. By doing this, we wanted to link the sustainability progression roadmap to the existing business cycle. So, it was linked to the ten years CapEx plan and to the budget for next year. By this way, the sustainability initiative starts to get really integrated in the business – instead of standing aside like many other programs or ideas. Furthermore, this procedure defines a governance and involves in the right people at each level. This is also crucial, because all stakeholders from the assembly line up to the management board must be convinced to go through that journey.
ON THE WAY TO A GREEN FUTURE

CREATING A FACTUAL STORYTELLING AROUND KPI AND DATA
A very important step was to make the abstract project KPIs more tangible. In doing so, it proved to be very important to value the professional experience of the scientists and engineers. This is a question of communication, e.g. to point out that indeed they are the actors of a big change. And, of course, a pharma company is especially seen as a role model for responsible behaviour in the public eye. The second communicational challenge was to make the big KPIs of the project more concrete. For example, saying 'we have to reduce our waste by 25%', it is very abstract. Instead of this, we transformed this numbers into a factual storytelling as mentioned at the beginning or in other visuals like the ones shown here.

BREAKING DOWN TO OPERATIONS
Of course, it was also clarifying and making it concrete what it would mean in operations, what the company had to do differently. For example, regarding to spend in innovation, construction materials for new buildings, change the supply chain, circular product design and so on. We started with a campaign within the employees that were already contributing could make own movies about their green activities in the company and post it. This made it very lively what was going on in the project. But furthermore, we connected it with the project documentary to give the management a tangible outcome about the results and the most promising measures for the next year. And at this point we talked about a roadmap in the way how we would approach things realistically and successfully.
After the first year of the project, the pilot was successfully implemented. Based on the analysis, they also decided to build a complete CO2 neutral pharma plant. So, the company continued to use our methods in the years to come and we can already see that they are achieving their targets.
According to that, another aspect of purpose-related communication came into play: by sharing the sustainability movies and visuals within the association of pharma companies, it strengthened the case of what pharma was doing do fundamentally change its business. This also led to airtime in the media – finally a perfect involvement of all internal and external stakeholders.