ROI-EFESO - CURRENT TOPICS & NEWS
Articles and interviews on current professional, technological and industry challenges, information on our consulting services, seminars and events as well as corporate topics:
Here you can find out what moves ROI-EFESO. We look forward to talking to you!
Contact person:
Anna Reitinger
Head of Marketing, ROI-EFESO
Phone: +49 (0)89-121590-0
Mail: reitinger@roi.de
ROI client REMMERS wins European logistics award
ELA awarded Remmers Baustofftechnik for its '<24 h Logistics Concept'
On 5 June 2013, Remmers Baustofftechnik GmbH from Löningen, Germany received the 'European Award for Logistics Excellence' from the European Logistics Association (ELA) for its '<24 h Logistics Concept'. ROI Management Consulting AG, which specialises in the design and management of supply chains, supported Remmers with the development of its integrated logistics concept.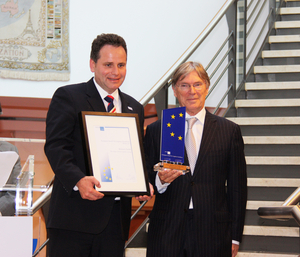 Klaus Boog (Managing Director, Remmers Baustofftechnik) receives the ELA logistics award 2013 from Jos Marinus (President European Logistics Association, ELA).
Read the entire press release here.
More information can be found on the ELA Website.