ROI-EFESO - CURRENT TOPICS & NEWS
Articles and interviews on current professional, technological and industry challenges, information on our consulting services, seminars and events as well as corporate topics:
Here you can find out what moves ROI-EFESO. We look forward to talking to you!
Contact person:
Anna Reitinger
Head of Marketing, ROI-EFESO
Phone: +49 (0)89-121590-0
Mail: anna.reitinger@roi-efeso.com
"The optimal 'green' balance combines several facets"
Tim Ballenberger, Senior Consultant at ROI-EFESO and Florian Santolini, Regional Director at kShuttle, explain how companies can implement the EU taxonomy requirements and use them to their advantage.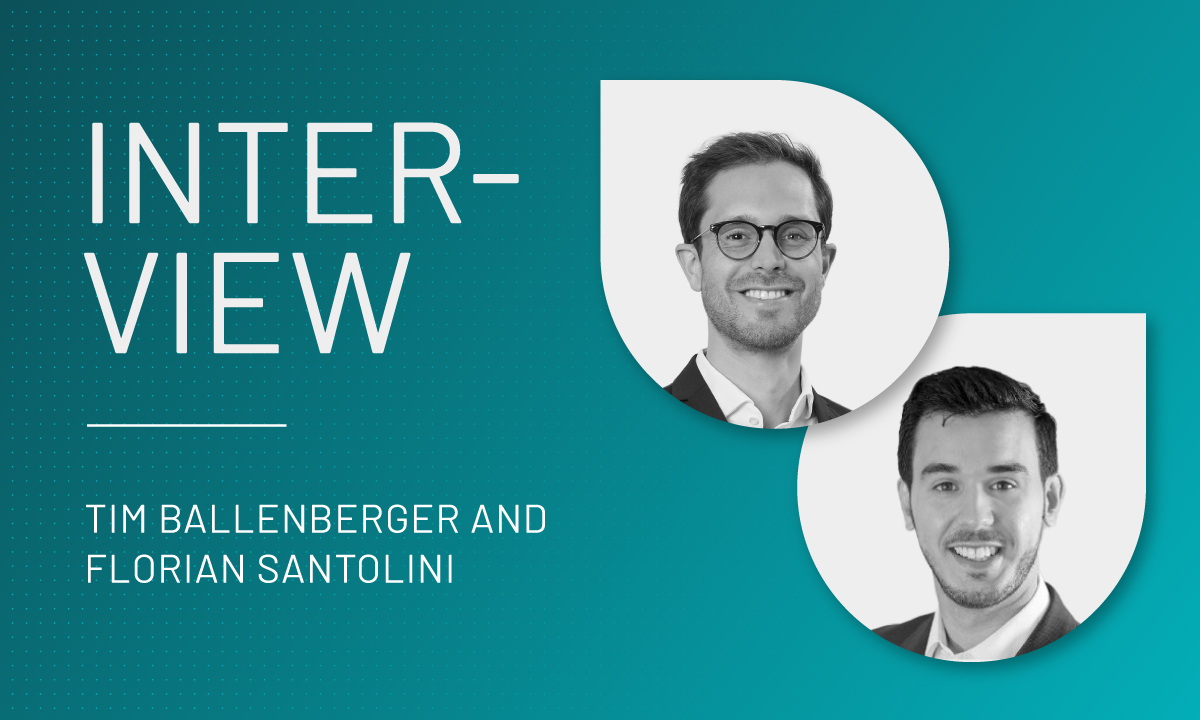 The EU taxonomy classifies economic activities and investments to contribute to a sustainable financial system. How do companies benefit from this?
Tim Ballenberger: In general, the taxonomy is intended to help facilitate investment in sustainable projects and improve the transparency of companies in terms of their sustainability performance. Perhaps its greatest advantage is that it creates a common language for investors and companies to clearly assess environmental and climate impacts of business activities.
From a technological point of view, what are the key levers to bring capital expenditures in line with the EU taxonomy?
Florian Santolini: Companies can use technology to evaluate their double materiality matrix by answering two crucial questions: first, what is the impact of my activities on climate change? And secondly, what is the impact of climate change on my activities?
The first question can be answered through a technical diagnosis of the technologies used in the company's value chain and the adoption of environmentally friendly alternatives. E.g., to identify significant sources of GHG emissions across all three scopes, the carbon footprint is a relevant method. kShuttle's platform calculates emissions for each component of the value chain, enabling companies to develop and track action plans, and run simulations.
The second question can be addressed by taking an inventory of all climate change-related risks and identifying solutions – and related action plans – to mitigate or eliminate them. Again, technology provides the data to define a strategy and to deploy it. In conclusion, technology can assist in choosing the best scenario to reorient investments to bring CAPEX in line with the EU taxonomy.
Who is specifically obliged to comply with the EU taxonomy - and what consequences can be expected in the event of non-compliance?
Tim Ballenberger: In addition to EU member states (including the EU itself) and financial market participants that offer products on the financial market, companies are the third group to which the EU taxonomy is directed.
All companies that are required to publish non-financial reports in accordance with the Corporate Sustainability Directive (CSRD) are affected. The companies concerned are in turn derived from Directive 2013/34/EU, which is supplemented by the CSRD. These are large companies, but also companies with subsidiaries that are to be valued overall like a large company. Small and medium-sized companies listed on an EU-regulated capital market may also be affected. The regulation specifies the exact criteria based on the characteristics of total assets, net sales and employees.
Regarding the consequences in case of ignoring, first of all, one should not underestimate the potential damage to the company's image - it is and remains risky to be seen as unsustainable by investors and customers and accordingly to be avoided as a business partner. Furthermore, non-compliance with the EU taxonomy can have legal consequences: those who fail to comply with their reporting obligations may be subject to fines or other sanctions. These are set individually by each EU member state.
What should industrial companies in particular pay attention to in order to properly anchor the topic in their organization?
Tim Ballenberger: The particular challenge here is to link the relevant areas and functions in order to successfully implement the EU taxonomy. To do this, lawyers and sustainability experts must work together with the experts from the specialist departments. Each of these three roles has its relevance in order to implement the topic correctly and successfully. Lawyers know the exact meaning of the regulations, the experts from the specialist departments know the processes and products, and the sustainability experts build the bridge between the two worlds. It is also important for successful implementation to build up internal expertise so as not to be dependent on external expertise from auditors.
Even if the primary goal is to implement the EU taxonomy correctly, companies must keep the manual effort required for this in mind. Manual reporting, based on Excel spreadsheets and manual inquiries in the specialist departments, leads to avoidable effort away from day-to-day business. Paralyzing the organization for reporting purposes must be prevented at all costs. In this respect, an optimal 'green balance sheet' matters in several facets. Companies need to enable reporting and sustainability while keeping costs and complexity under control. Especially in the long term, it is important that the relevant data can be collected and reported automatically. For this to be possible, the EU taxonomy must first be implemented properly. Based on this, the right and appropriate system solution can be selected and finally integrated into the adapted processes.
What experiences or lessons learned from the use of the solution in industrial companies can you share?
Florian Santolini: Drawing from our experience, we believe that companies should prepare for the following technological challenges:
Possess the right tool to navigate the regulatory process step-by-step, including adequate substantial contribution criteria and a dedicated workflow to monitor progress.
Automate the reporting process to ensures data quality, reliability and auditability while simplifying auditors' access to key information.
Conduct in-depth data analysis, such as gap analysis between different periods and scenarios, activity analysis, GHG drill-down, projections, and trajectory monitoring.
Anticipate the impact of other regulations (e.g., CSRD) and maintain a common repository of reference between them (organizational structure, percentage of shares held, entity currency, rates, etc.) by avoiding siloed solutions.
Align with major regulatory frameworks, including CSRD, ESRS, Taxonomy, SDG, GRI, etc., to generate the required reporting formats and leverage data across all frameworks.
Provide expected autonomy in reporting/dashboarding capability for any department or entity involved in the process.
How does the approach of ROI-EFESO and kShuttle accelerate a implementation of the EU taxonomy?
Florian Santolini: Since the process involves actors from different departments located all over the world, having the support of firms with an international presence is beneficial. ROI-EFESO combines know-how from industry, digitalization and transformation processes to realize efficient and sustainable solutions for industry. Meanwhile, kShuttle provides a comprehensive software solution to comply with the EU taxonomy and CSR Directive. Both companies have a global footprint, which ensures constant support everywhere. And our customers benefit in particular from the combination of this expertise.
Furthermore, kShuttle's compliance platform is the only comprehensive end-to-end solution that fully covers sustainability reporting (including an embedded GHG module) and finance reporting (EU taxonomy). This data is critical to elaborating your sustainability strategy, and our platform provides all the tools you need to manage your business model at every level of your organization. Our offering provides the technology and expertise to define multi-year objectives, track the impact of action plans on overall sustainability performance, identify areas for improvement, and refine strategies on an ongoing basis.
kShuttle's technology ensures accuracy and consistency, connects with any data source, establishes a reliable source of truth, and allows for detailed analysis of emission components and their variations. By incorporating the global logic of impact measurement and transformation, our platform embodies each regulatory process and its interconnections. As companies need to disclose their financial and sustainability performance, ROI-EFESO helps them digitize the process, comply with the EU taxonomy and the Corporate Sustainability Reporting Directive (CSRD), allowing for comparable and reliable sustainability information.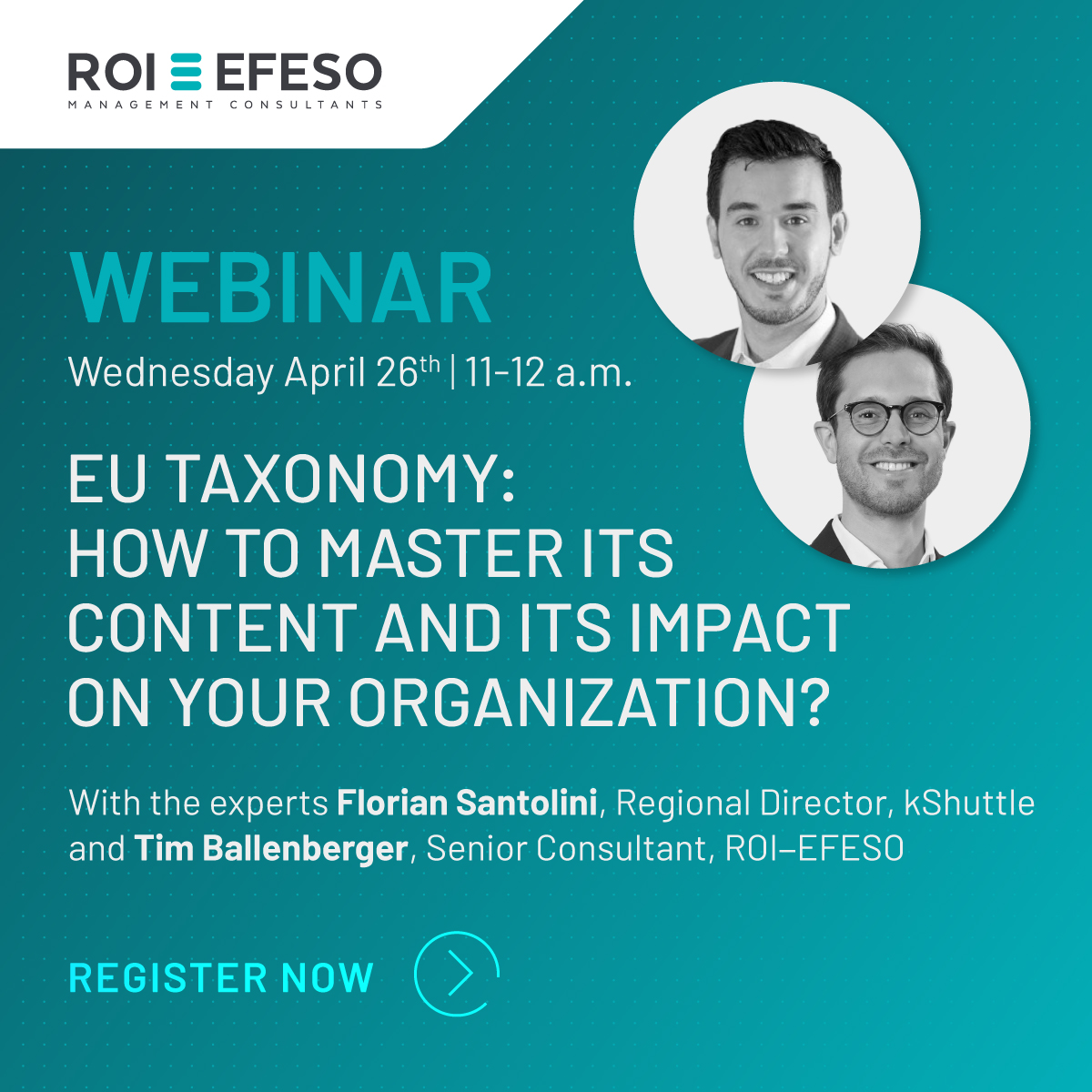 Would you like to learn more about the topic?
In the free webinar "EU taxonomy: how to master its content and its impact on your organization?" on April 26th, Tim Ballenberger from ROI-EFESO and Florian Santolini from kShuttle explain the essential aspects and fields of action for companies to implement the EU taxonomy.