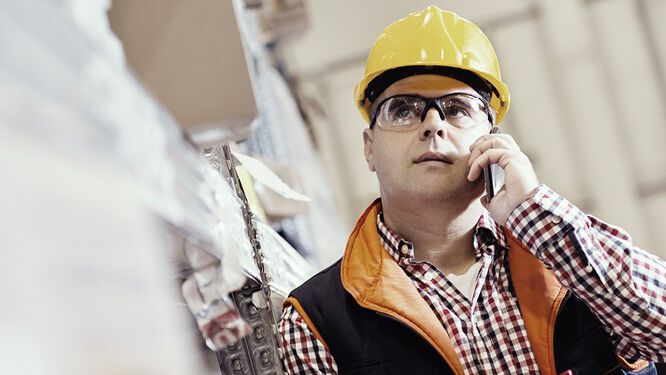 Intralogistics: Outlook into 2030
Technological landmarks for ideal logistics
Does a data goggle speed up picking? Or is an investment in a pick by light system more worthwhile? Up to now, new technologies for intralogistics have not been high on the priority list of companies. This is because the cost share of logistics is lower than that of other work areas and their need for digitization is generally greater. But this is changing rapidly: from pick-per-voice tools to autonomous storage robots, more and more instruments are available. Those who know the spectrum available today protect themselves against bad investments - and those who have it in mind until 2030 can profit from every change in technology. A global player in the semiconductor industry was able to obtain precisely this foresight. Together with ROI-EFESO, the chip manufacturer developed a cross-location intralogistics concept up to the year 2030.
Intralogistics: Outlook into 2030
Logistics 4.0 methodical planning
In the project, however, strategy and methodology set the pace instead of science fiction scenarios. The points of orientation for looking into the future should not be abstract trend topics such as artificial intelligence, but concrete technologies that make economic sense for the company and can be implemented across locations. The project team consisting of ROI-EFESO consultants and the logistics decision makers of the chip manufacturer applied a three-step procedure:
Determine status quo
Develop vision by 2030 (based on a concept for ideal logistics)
Carry out a feasibility study (based on the conditions in the plants including a profitability calculation)
Determine status quo
As a first step, the ROI-EFESO team visited five representative locations of the company's back-end and front-end production in order to record the status quo of the internal logistics processes. The chip manufacturer's manufacturing is characterized by a high degree of industrial 4.0 maturity, with a highly developed degree of automation and networked value-added stages between the production lines of the plants. This made logistics all the clearer as a contrasting programme: despite various lean approaches, digital technologies were used there rather rudimentarily. The flow of information was paper-based; automated processes were the exception and not the rule. The various warehouses for the parts groups were distributed over the entire area or were located outside the factory premises for reasons of space. There was no central logistics centre. At some locations, logistics was also outsourced, and external service providers handled the processing.
Added to this was the complexity of the parts spectrum: Tens of thousands of different microelectronic components and many spare parts had to be kept in stock. Every day, the company produces hundreds of thousands of microchips, but because they are so small, there are hardly any pallet movements. This proved to be an essential factor for the project. After all, pallet movements are an important key factor for logistics in determining when automation pays off. With thousands of moving pallets a day, it makes sense, but not with less than a hundred pallets a day.
Develop vision by 2030
In the next stage of the project, the project team developed a "vision" for intralogistics, which identifies both concrete objectives and technologies specifically suited to the company. The objectives should take into account future production requirements as well as changing customer and market requirements, in particular with regard to:
highest effectiveness and efficiency;
the right speed in the delivery of services;
upward compatibility of new technological solutions;
eight "R´s": Right product, quality, time, location, quantity, packaging, cost and information, controlled by KPIs.
As a further essential element, the project team developed a so-called "morphological box". In an overview matrix, this shows the main logistics activities, such as handling, transport, warehousing and information provision in the plant, and identifies technologies that could lead to improvements. At the same time, it assigns these activities to three time periods for implementation.
From these two elements, the chip manufacturer derived its individual intralogistics vision until 2030. In realistic steps, the company can now drive technological development forward without losing sight of other technologies that are actually relevant.
Ideally, it also combines all functions from goods receipt to storage and dispatch in a suitable and functional logistics building to ensure the necessary process quality. The project team formulated the following "Guiding Principles of Warehouse Optimization" for the later, optional construction of such a "Warehouse 4.0":
Build a fully functional, consolidated on-site logistics center.
Design its processes consistently.
Realize logistics with as few process steps as possible.
Use state-of-the-art technologies (especially intelligent data analysis) - if they achieve material and immaterial advantages.
Avoid a warehouse utilization of more than 85%, as this leads to inefficiency.
Execute feasibility planning
In the final step, the project team drew up feasibility plans for each of the chip manufacturer's locations on the basis of the formulated "Vision 2030": Which technology pays off where? What is unrealistic for the next five years, but perhaps cheaper available in ten years and helpful in use? To this end, the company is now regularly initiating pilot projects, for example to test driverless transport systems or the suitability for everyday use of data goggles that indicate work tasks to warehouse staff. This procedure protects against bad investments and makes it possible to experience the future of intralogistics "step-by-step".