Our approach: Flexibly adaptable to your requirements
Regardless of whether you already have an academy with existing training programs that you would like to expand for including additional topics, or you would like to establish a completely new academy. With our end-to-end approach, we support you in the successful development and implementation of your in-house academy: from the overall strategy to the development of the learning and training landscape to the implementation and evaluation of training measures as well as operational management. As a partner, we thus provide you with holistic support in establishing a new learning organization and culture.
Discover our services:
We analyze the current state of your corporate learning activities and jointly develop a strategic target picture with a suitable organizational setup and KPI system for your in-house academy.
Learning & Training Landscape
We identify the needs of the target groups and develop a customized learning architecture with different learning formats. Through role- and task-based learning paths, we plan the competence development for your teams.
We accompany you beyond the planning and preparation phase during the piloting and roll-out of the training measures and support you in building internal trainers, coaches and multipliers.
We work with you to define processes and responsibilities for the smooth operation of your in-house academy and, if required, actively support you in operational tasks up to performance reviews and reporting.
Academy Design
The appropriate Learning & Development (L&D) strategy is crucial to ensure that your in-house academy is aligned with corporate and business objectives and is sustainably established in the organization. Therefore, we first conduct a so-called L&D Health Check, which identifies the potential of your corporate learning activities. Then, in close cooperation with decision-makers and management, we develop a target picture that describes the necessary competencies within the company, the strategic qualification goals, and the overall mission and positioning of your future academy. Taking into consideration the relevant organizational units and departments, we then develop a sound organizational design for the academy. A functioning key performance indicator system and performance management with defined KPIs ensure the positive effects on your business and the learning success of the participants and are at the same time important indicators for the effectiveness of your academy.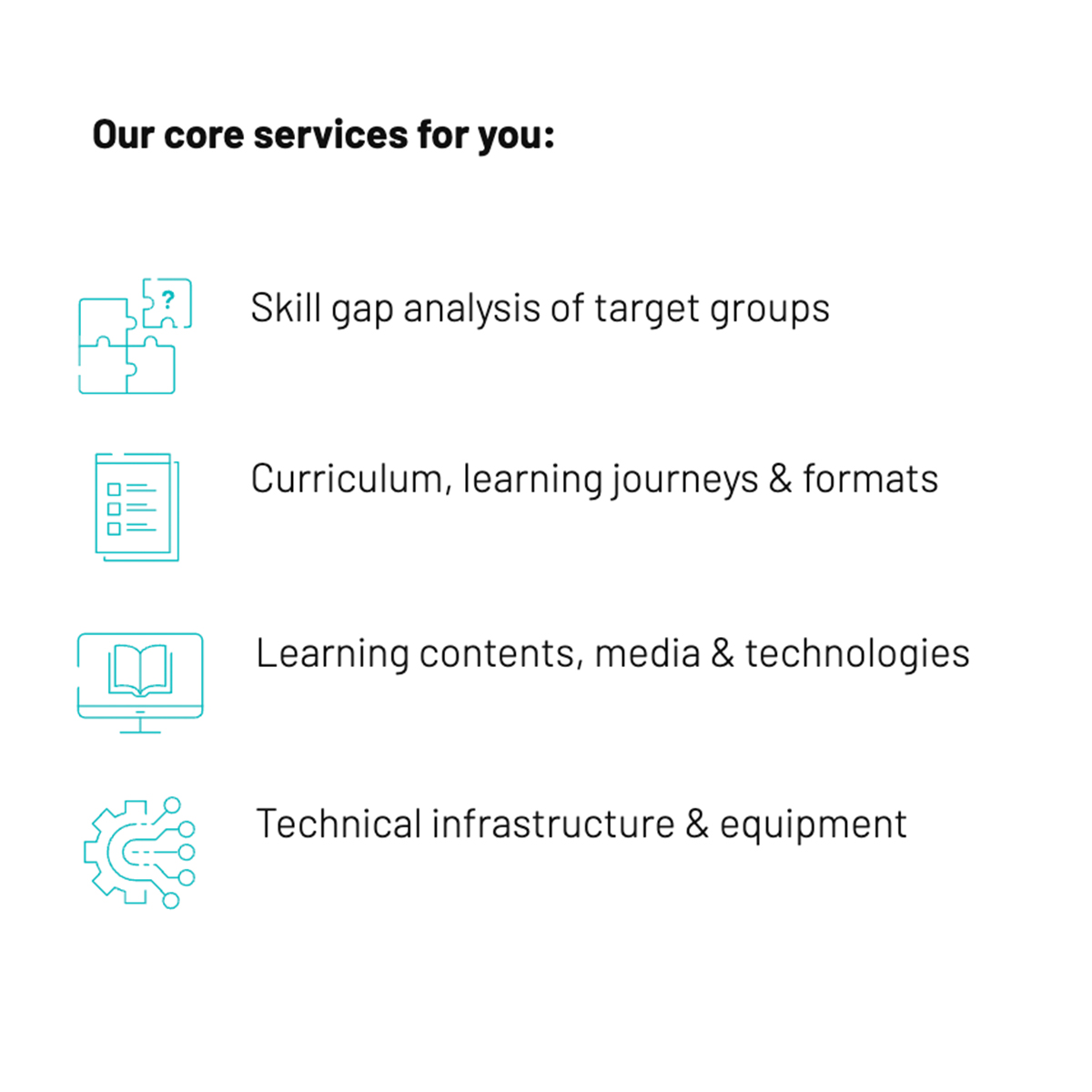 Learning & Training Landscape
For sustainably achieving the defined qualification goals, we develop a comprehensive learning and training landscape of the in-house academy, which is ideally aligned with the skills development of the respective target groups and roles in your company. After conducting skill gap analyses, we create specific learning journeys with suitable learning formats for your employees as well as the corresponding training documents and learning materials. A mix of contemporary learning forms and methods (blended learning), such as training-on-the-job, social learning combined with classic learning formats such as workshops or e-learning, ensures sustainable competence development in your company. The use of digital learning technologies supports an innovative end-to-end learning ecosystem. This includes, among other things, the implementation or integration of learning management systems as well as the development and implementation of innovative learning media such as virtual and augmented reality.
Operational Delivery
In line with our end-to-end approach, we support you not only in the design and ramp-up of your in-house academy, but also in the implementation of all learning and training measures during the pilot phase – and beyond, if required. In doing so, we draw on specifically created learning media and material for both online formats and face-to-face learning. Our experienced trainer team and broad network of partners ensure reliable delivery and scalability of the desired training services. Our focus is on the learning success of the participants. For ensuring a sustainable knowledge transfer and development of your own resources for the ongoing operation of your academy, we qualify employees within your company through systematic training and onboarding in the sense of a train-the-trainer approach. You benefit from the comprehensive knowledge, industry experience and internationality of our trainers, who are all experts in their field.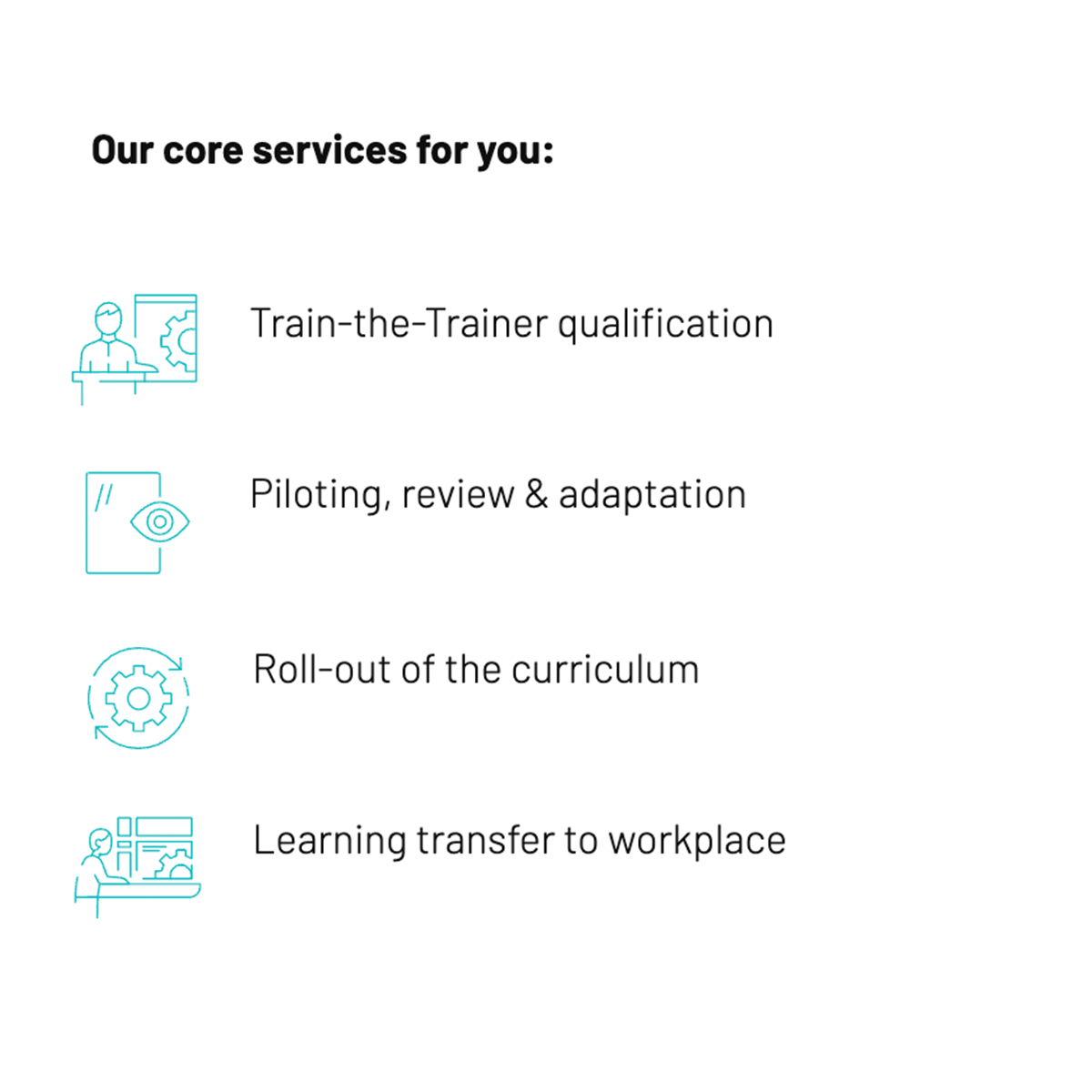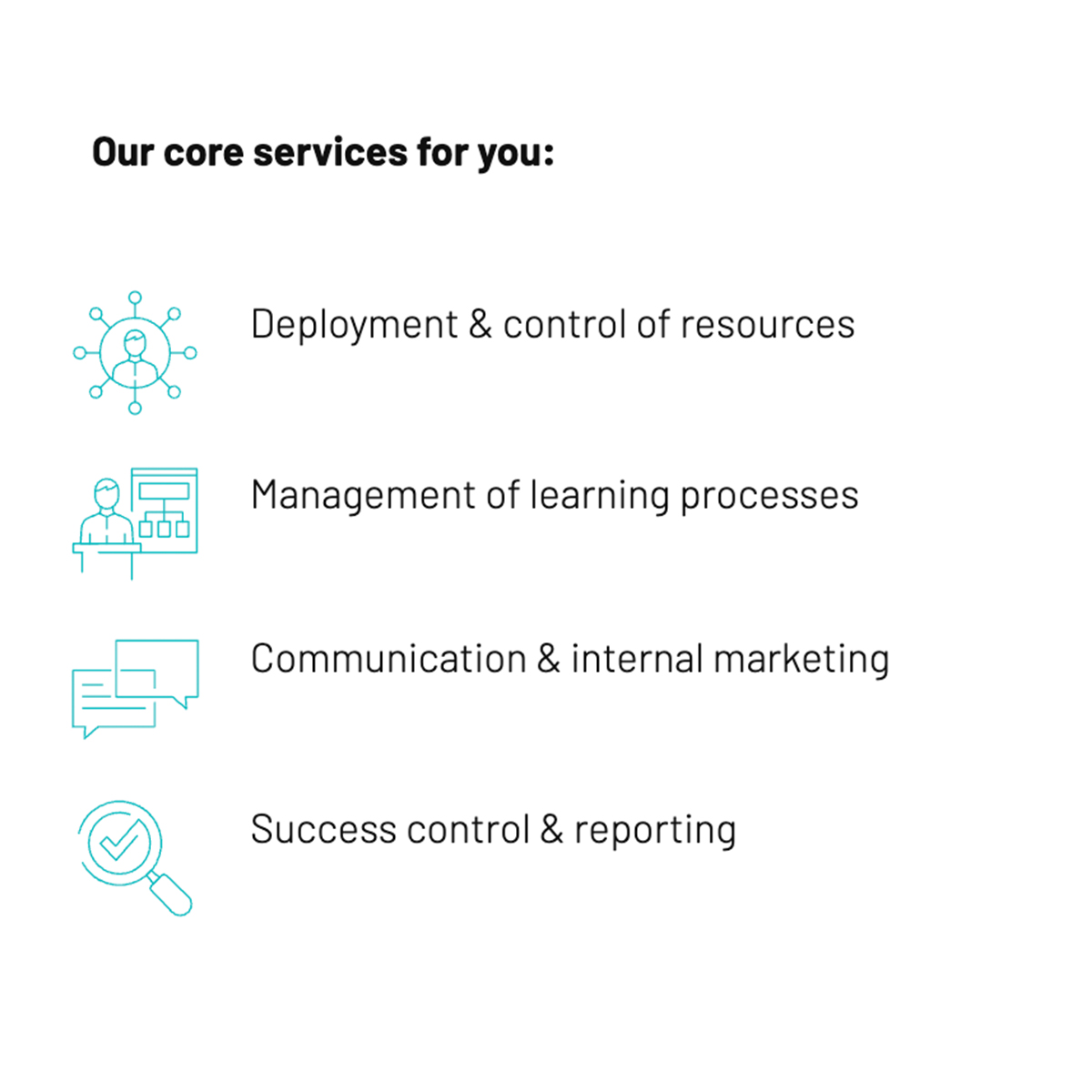 Operational Management
The successful operation of a learning and training environment requires active management and practiced processes that ensure a smooth flow from planning and implementation to evaluation and completion of the learning and training measures. Together with you, we create transparent and efficient processes as the basis for the professional operation of your in-house academy, and we support you in ramping up your academy organization. In addition to managing internal and external resources, this also includes ensuring continuous performance tracking and reporting to internal stakeholders as well as effective internal communication and marketing of the academy offering. Beyond the initial set-up of these processes, we also support the ongoing operation of your in-house academy in terms of managed training services, which includes, for example, training and participant management. In this way, you benefit from the outsourcing of selected operational tasks.
»ROI-EFESO has effectively supported us with a holistic concept in the qualification of our managers and professionals with respect to Operational Excellence. I would like to emphasize the LEAN LEADER trainings that were conducted for interdisciplinary groups from different management levels, who were trained on important Lean topics over several days. In particular, the practical exercises were very stimulating, fit well into our world of real Shopfloor problems and led to intensive and valuable discussions in the team. These exercises created images in my mind that very much deserve a place in the gallery of KOSTAL experiences and that I will refer to in future discussions with employees relating to the topic of LEAN MANAGEMENT.«
»The cooperation with the ROI-EFESO consultants and trainers is characterized by utmost professionalism and has been very successful for us so far. In addition to the cooperative collaboration, we particularly appreciate the high technical and methodological competence of the trainers, from which we have been able to benefit greatly in our global projects to date. Among other things, the pragmatic and flexible approach to projects is particularly noteworthy. This "hands-on" approach has convinced us. The expertise brought in from OPEX and Industry 4.0 has made a significant contribution to establishing a suitable development strategy for our Industry 4.0 training landscape, which is currently being implemented at over 20 global locations.«
»When building our inhouse Production Academy, we chose the ROI-EFESO Learning Campus as our qualification partner, who has accompanied us in all project phases and related processes since the beginning of the project. This includes the definition of target groups and competence requirements on the level of production employees as well as the content-related didactic development of the training concepts with suitable teaching methods. The focus topic of the trainings is on lean production, digitization and automation. We benefit significantly from the industry and training know-how of the ROI-EFESO experts to systematically build up the Production Academy as a training platform. This represents a major step forward for Vaillant and makes a decisive contribution to the further development of the processes and people in our company. We would like to thank for the trusting and cooperative collaboration.«