Business Process Analysis, Management & Automisation
Business Process Analysis, Management & Automisation
Industrial digitization will remain a heterogeneous field in the coming years, characterized by the coexistence of numerous systems and interfaces as well as process breaks. The North Star in IT, the integration of all systems and the complete digitization of the process landscape, cannot be achieved in the long term with standard applications alone.
With ROI-EFESO, manufacturing companies use forward-looking technologies to efficiently manage this diversity and activate value creation resources. In the workflows of the Smart Factory, we create results in particular with the following software applications.
Robotic Process Automation (RPA): Digital Assistants for Production
They prepare balance sheets, take over controlling tasks or answer customer inquiries: for Robotic Process Automation (RPA) solutions, these and other repetitive tasks are the ideal field of application. Software bots or "digital assistants" are already automating many business processes by mimicking human, manual work steps and accessing companies' IT systems directly.
The smart factory also offers exciting application scenarios for RPA. In the production environment, digital assistants open the way to complete digital integration and automation. Whether in the digital store floor, reporting or in the connection of supply chain management processes - RPA support can pay off in many ways:
Potential applications of digital assistants in production ©ROI-EFESO
ROI-EFESO shows companies how they can quickly and profitably deploy RPA in the manufacturing context - and use digital assistants as a bridging technology for comprehensive digitization of their operations processes.
Particularly in the case of time-consuming, error-prone manual activities, the automation of which does not pay off with a large IT system, the digital helpers unfold their effect and ensure significant efficiency gains. Application scenarios in production are, for example:
Improve reporting
Consolidation and preparation of production data into reports is often done manually by several employees, since very individual requirements have to be met on the store floor and different key figures and reports are needed. RPA consolidate these work steps and quickly and reliably compile data from Excel spreadsheets or ERP and production systems. In general, they reliably automate processes with a standardized input such as Excel, Word, email, CSV or PDF files

Ensuring information transfer
Assistants transfer data from ERP to CAD systems or regularly check the OEM's portals at suppliers. Although they do not solve cognitively difficult tasks, they are ideal for making processes with high transaction volumes of information and/or frequent frequency more efficient.
Typical tasks of a digital assistant ©ROI-EFESO
With ROI-EFESO, companies establish awareness of the benefits of automation and digital assistants in their organization. With an RPA implementation, we ensure measurable results in a short time.
Our approach includes the following phases:
Potential analysis (1-2 weeks): We record the status quo of automation, identify suitable fields of action and processes, and estimate the potential for RPA.
Initialization (1 week): The focus is on setting up the IT architecture, including the selection of SW providers and possible strategic partnerships. The necessary elements such as licenses and server capacities are procured and a "Center of Excellence" is designed for the key users. In addition, initial training is provided for management and key users.
Development & testing (1-3 weeks) of the defined Digital Assistants.
ocumentation of developed wizards and start-up support as needed.
Process Mining: Transparency instead of process black box
Process mining is a software-based approach that helps companies gain a precise and comprehensive picture of their business processes or value chains. Process Mining Tools reconstruct the digital trace that work processes leave behind. In contrast to a classic process analysis, the focus here is not on a specific process variant - instead, objective key figures are used to analyze the facets and variants that arise in everyday work.
This provides decision-makers with a realistic picture of the processes under review and ensures an ideal starting position for improving operational excellence, compliance and process quality.
Tracking real processes with process mining ©ROI-EFESO
With ROI-EFESO, industrial companies dissolve their "process black box" in the operations environment and improve the objectivity and transparency of business-critical processes in the long term.
In the identification and application of suitable Process Mining ROI-EFESO focuses on the following topics and tasks:
Process modeling based on data tracesEvery
tracesEvery process step leaves traces within systems such as ERP and MES, in databases, tables and communication tools. This is especially true for standardized work processes - such as in purchasing, where every process can be precisely mapped using data such as transaction number, time stamp, or status. With appropriate data preparation, less structured processes can also be reconstructed, such as "Idea to Product" or "Customer to Demand"

Build "quantity scaffolds "
There are many variables to consider when discussing process variations: How often might the process take the discussed path? Do the analyzed problems actually exert a significant negative influence? When, where, and why might deviations from the defined route occur? Ideally, these and other questions are answered by facts rather than assumptions. The necessary quantity frameworks, i.e., resilient data, are provided by the Process Mining

Creating the basis for far-reaching process optimization
optimizationIn the Process Mining one should not only determine the causes of deviations. But also whether certain process variants are acceptable or even necessary. This is because they often arise in everyday business as improvised solutions for special cases that were not recognized in advance, such as special throughput times, market conditions or customer behavior. Process Mining shows this diversity and thus prepares the ground for a well-founded and fact-based process optimization.
With this approach, companies can correct process deviations and reduce the number of process variants - but also define additional, permissible process variants. This also Process Mining also creates the conditions for the successful use of other digitization technologies such as RPA. This also improves efficiency and effectiveness in the context of the introduction of new IT systems such as S4/HANA, if these ideally support all permissible process variants.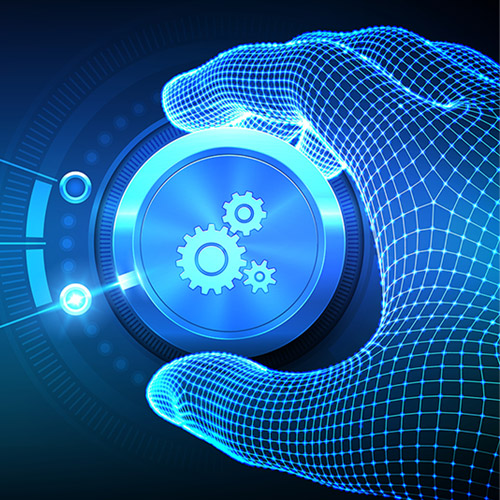 Case Study
Increasing efficiency through digitalisation & Industry 4.0
A manufacturer of machinery and special machines has already achieved a high level of automation in its production processes. Now the company is setting its sights on further, cross-departmental goals for process automation. Together with ROI-EFESO, it is defining fields of application in the operations area in which Robot Process Automation (RPA) tools are to ensure time savings and relieve employees.
SHORT CASE
Medical technology company
Project: Implementation of RPA to automate highly manual checking and reconciliation work in accounting. Goals included reducing overtime in the accounting team and initiating a company-wide "automation mindset".
Results: First robot was running after three weeks, a "center of excellence" in working with RPA was established after eight weeks. Employees created 50% of the robots themselves.
SHORT CASE
Retail Group
Project: Acceleration of the Group-wide RPA introduction with an "RPA Center of Excellence". The focus here was on qualification measures. Among other things, the management board learned more about the advantages and hurdles of an RPA implementation in management training.
Results: Building the Center of Excellence without dependence on external vendors and consultancies. The automation idea was successfully transferred to the entire group: Many departments joined the RPA initiatives voluntarily and started to build RPA teams to discover even more RPA potential.
SHORT CASE
Mechanical engineering company
Results: Detect deviations in the sales process with Process Mining uncovering.
Ergebnisse: Accurate identification of which customer orders were processed with and without a quote. Quick identification of the quantity structure of the service process.