Your certification for process and digital competence
Do you want to drive digitalization in your company without losing the view on the processes? With our certification programs, you can build up the necessary expertise. Our programs combine practice-relevant methods, pioneering Industry 4.0 technologies, and application scenarios for your targeted qualification. After successful participation, you will receive a certificate of completion from ROI-EFESO.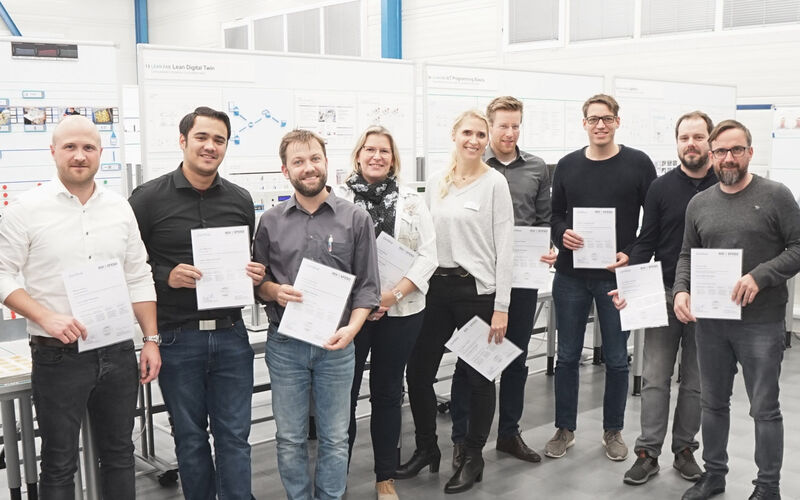 CERTIFICATION PROGRAMS
Learn more about the systematic collection and use of data to develop and implement specific Industry 4.0 use cases for process improvements.
Combine proven lean production principles with Industry 4.0 technologies to achieve lean and digitally connected processes for performance increase.
Use Six Sigma methods with the Lean philosophy in mind to eliminate waste in processes, reduce costs, and increase quality.
Statements
Customer Testimonials
Learn more about the benefits and advantages of our seminars and certification programs from our participants.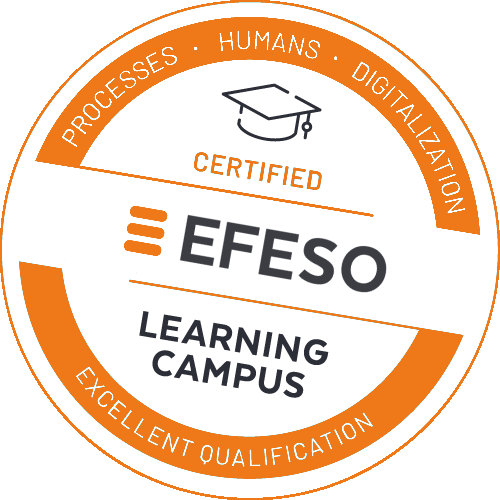 4-DAYS-TRAINING
Analytics know-how for production and supply chain
Day 1
Connectivity through digital networking
Exploiting data sources for more data availability
Day 2
Information by means of visualization tools
Evaluating collected data and developing data models
Day 3
Knowledge creation through analytics tools
Optimizing processes through systematic use of data
Day 4
From predictive analytics to autonomy
Implementing learning and self-controlling systems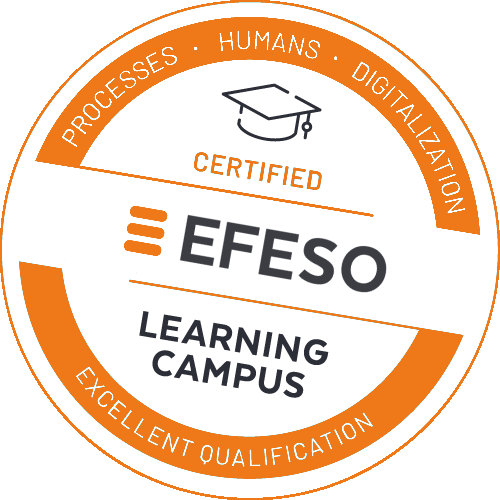 Day 1
Digitzation of lean manufacturing
Effective combination of lean methods with digitalization
Day 2
Technologies & use casses for Industry 4.0
Productivity through process digitization on the Shopfloor
Day 3
Data Analytics in production
Efficient problem-solving process through data usage
Day 4
Industrial IoT platforms & architectures
Networking and control of the smart production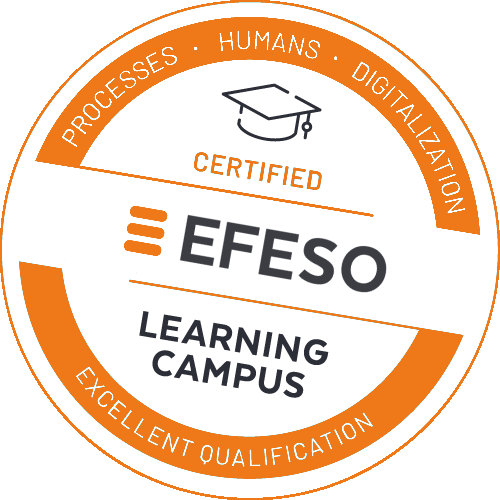 10-DAYS-TRAINING
With the DMAIC method to higher process performance
Day 1-3
Basics for classification of Lean and Six Sigma
Defining problem and project goal as well as collecting data
Day 4-6
Analysis methods and procedure
Identifying causes of problems by using appropriate procedures
Day 7-9
Improvement and sustainability
Developing, evaluating and implementing problem-solving ideas
Day 10
Practical exercise for the DMAIC method
Practically applying DMAIC for process improvement
with accompanying practical project incl. coaching and final examination within a period of 3 months
In addition, we offer the Lean Six Sigma qualification at BLACK BELT and MASTER BLACK BELT levels, which you can accomplish by building on the GREEN BELT program by using additional training and examination days. This will expand your problem-solving skills to include methodological, statistical and multi-project management topics and enable you to foster the further development of Lean Six Sigma across different functions in your company.
»Our company is currently undergoing a profound digital paradigm shift. The practice-oriented training course to become a "Lean Digital Manager" supported me in understanding the crucial action fields of the digital transformation, and in fostering the optimization of business processes through digital technologies. The added value of this certification course from ROI-EFESO was for me to experience the interaction between Lean and Digital by using vivid training simulations, and to try out initial application scenarios for Industry 4.0 in the learning factory. In addition, the acquired know-how has been considered for digital projects, which could be implemented with concrete measurable project results.«
»We have been using the ROI-EFESO offer for a long time and very successfully. The topics are very diverse and always state-of-the-art. In the course of the digitization of production, I take on the task in personnel management of ensuring targeted qualification in the company for our employees. This involves not only building up data and technology skills, but also involving employees in the digital transformation and motivating them to do so. At the ROI-EFESO Learning Campus Training Day, I was able to take away valuable impulses and suggestions in this regard, especially with regard to the selection and implementation of qualification topics for Industry 4.0 and agile working methods in the company. I was also able to benefit from the exchange of experience and networking with colleagues and experts at this seminar.«
»A central component of the Rohde & Schwarz Production System (RSPS) is the further development of our employees, who live and shape the processes on a daily basis. The goal is to continuously improve processes in order to meet increasing customer demands for high-quality products. Along the way, we have joined the expert network from the Learning Campus at ROI-EFESO as a Best Practice Partner to receive external feedback on our improvement potential, but also to share our implementation successes with other companies. In addition, our Lean trainers were able to acquire valuable technical and methodological competencies around lean management, leadership, and digitization in ROI-EFESO's seminars. The final certificate as Lean Digital Manager was accepted with great joy and enthusiasm.«
»I appreciate the practical orientation of ROI-EFESO as a consulting company. This is also one of the great advantages in the Learning Campus - the training and qualification division of ROI-EFESO. The Lean Production Tours, for example, enable me to learn from the best and exchange ideas with other companies. The Learning Campus has also recognized the trend toward digitization early on. For me, the online round tables create a virtual, moderated discussion forum on current topics despite pandemics and travel restrictions.«