Decisions on the structure of global value networks have long-term and far-reaching consequences for companies. They must therefore be based on a supply chain strategy that is supported by the corporate vision and derived from the corporate strategy.
The supply chain strategy forms the basis for the medium to long-term orientation of the entire value chain and thus for securing competitiveness and minimizing inherent risks. It creates the conditions and the framework for operational supply chain management to achieve an optimal combination of delivery performance and delivery costs. At the same time, supply chains must remain lean, efficient and flexible in order to be able to react as quickly as possible to changes, trends and risks.
It is essential to identify the relevant requirements at an early stage, analyze them systematically and integrate them into the supply chain strategy. Decisive factors here are current and future customer requirements, competition, technological innovations as well as geopolitical, legal, ecological and economic conditions.
In this context, sustainability requirements must also be taken into account. For example, efforts to decarbonise the supply chain lead to a continuous and systematic identification of economic sustainability risks. In some industries, a trend towards decentralisation of the supply chain and increased use of regionally produced components and services is emerging.
The specifications and requirements necessary for the operationalization of the strategy must be made. The following questions, among others, are to be answered:
How can customer requirements be defined and segmented? Which service levels are required?
Through which sales channels should the customers be reached?
Which locations and networks are chosen, what is their desired degree of autonomy?
What are the targets and metrics for the supply chain?
What is the optimal compromise between minimizing TLC/TCO and risk minimization?
What are the preferred sourcing strategies?

Single vs. multiple sourcing
In- vs. Outsourcing
Modular vs. Component Sourcing
Regional vs. Global Sourcing

What are other strategic parameters in the distribution?

Staggered distribution processes
Design of decoupling points
Preferred transport routes and modes of transport
Process design and the binding nature of process models
Principles of cooperation with external partners

To what extent is the supply chain strategy supported by the IT strategy?
Our consultants of ROI-EFESO bring the expertise to develop a tailor-made supply chain strategy based on the individual framework and requirements together with our customers. A proven process model helps to manage this process in a stringent and goal-oriented manner, but it must be adapted to the specific requirements. Our services include in detail:
Derivation of the aspects relevant for the design of the supply chain from the corporate strategy
Recording of current and future requirements for the supply chain
Formulation of market, competition and environment scenarios
Development of alternative supply chain strategies and evaluation on the basis of the formulated scenarios
Selection and detailing of the final supply chain strategy
Optimal organization of capacity and operations planning is one of the essential growth prerequisites for companies. Here, the design of Sales and Operations Planning (S&OP) plays a central role, usually in the context of Integrated Business Planning (IBP). IT tools that visualize S&OP/IBP processes can improve the flow of information along the entire value chain. AI support can also increase the predictive accuracy of business-critical forecasts.
In order to achieve valid and useful results, the right technological "set screws" must be known beforehand - for example, in order to be able to distinguish important process data from unimportant data, to record, analyze and prepare it according to the employee. After all, it is usually not the data sources that are lacking, but the analysis skills or the right technological tools to make the complexity of the masses of data in the company manageable.
Virtual assistant with AI
The S&OP/IBP Digital Cockpit from ROI-EFESO automatically prepares and visualizes data so that employees can make better decisions faster, whether in their own area of work or across teams and departments. Like a virtual assistant, an AI (artificial intelligence) directly informs about anomalies, deviations and changes in the current business processes, creates forecasts and provides experience-based recommendations for action.
The special advantage of the assistant: although its AI algorithm is programmed according to a standard structure, it can be transferred to the company's specific fields of application and adapted to the user's current and future requirements depending on the need/objective. In addition, the AI can interpret problems and learn from previous experience as well as from interaction with the user.
Other features of an S&OP/IBP Digital Cockpit include:
Central data source for all participants in the value chain
Drastic shortening of the decision-making time
Customizable S&OP/IBP cycles, from monthly to daily
Simulation of potential future scenarios
Provide details for a multidisciplinary, solution-oriented approach
Ability to select customized data views by management level and/or functional responsibility
Detailed drill-downs to any level of data granularity, such as by region, product, brand, and/or product group
Complete integration of core KPIs and drivers

With ROI-EFESO, industrial companies successfully deploy S&OP/IBP cockpits to improve the transparency and effectiveness of business-critical operations processes.
In contrast to pure data science consulting, ROI-EFESO not only provides technical consulting, but also supports the establishment of new processes, roles and responsibilities as well as the qualification of employees.
In addition, we have in-depth expertise in the development and application of corresponding technologies in various industries and support companies in particular in the following tasks: • Construction of a customer-specific algorithm based on data science methods • Creation of a customized AI solution • Selection and implementation of suitable mathematical methods for customer-specific tasks and forecasts • Vendor-independent selection of a market solution or, alternatively, development of your own enterprise solution, depending on your needs.
Fields of action for data visualization in S&OP/IBP projects
Companies should consider the extent to which data visualization can be worthwhile in four IBP dimensions: in terms of demand forecasting, the demand situation within their market, in their supply and inventory planning, and in balancing supply and demand. Important roles are played by the following areas:
Supply chain management / supply chain as orchestrator of the S&OP process and special application area for sophisticated statistical forecasting methods.
Sales and product marketing coordinate demand planning and collect all relevant market information. Sales controlling uses the output of demand planning as input.
SCM plants are closely involved in the S&OP process. The effort for capacity planning is lower because it is based on RCCP groups (Rough Cut Capacity Planning); the quotas are updated monthly.
Strategic sourcing is also heavily involved in the S&OP process and is a partner in scenario planning.
Controlling supports selective decision-making processes based on actual figures, but not in the sense of a comprehensive P&L simulation.
Learn more about ROI-EFESO's other services in the area of industrial digitalization, Industry 4.0 and IoT.
SHORT CASE
Manufacturer of industrial materials
Project: Improvement of the entire manufacturing process as well as the organization of capacity and operations planning incl. a redesign and optimization of S&OP and production planning
Results: Successful completion of the proof of concept for S&OP planning in SAP IBP with a clear recommendation for implementation and start of roll-out. The new S&OP process will increase OTIF and OEE, furthermore a business case showed a payback time of less than three years.
SHORT CASE
Mechanical engineering company
Project: Redesign and improvement of S&OP and production planning with dashboards that offer functionalities for different needs. For example, an up-to-date sales forecast in production planning and the simulation of supply chain disruptions were to be mapped.
Results: Implemented an AI-powered dashboard that integrates all relevant data sources and eliminated the previous segmentation into different documentation formats. Forecasts are no longer made based on estimates, but with accurate reference to quality and time of deliveries as well as internal OEE.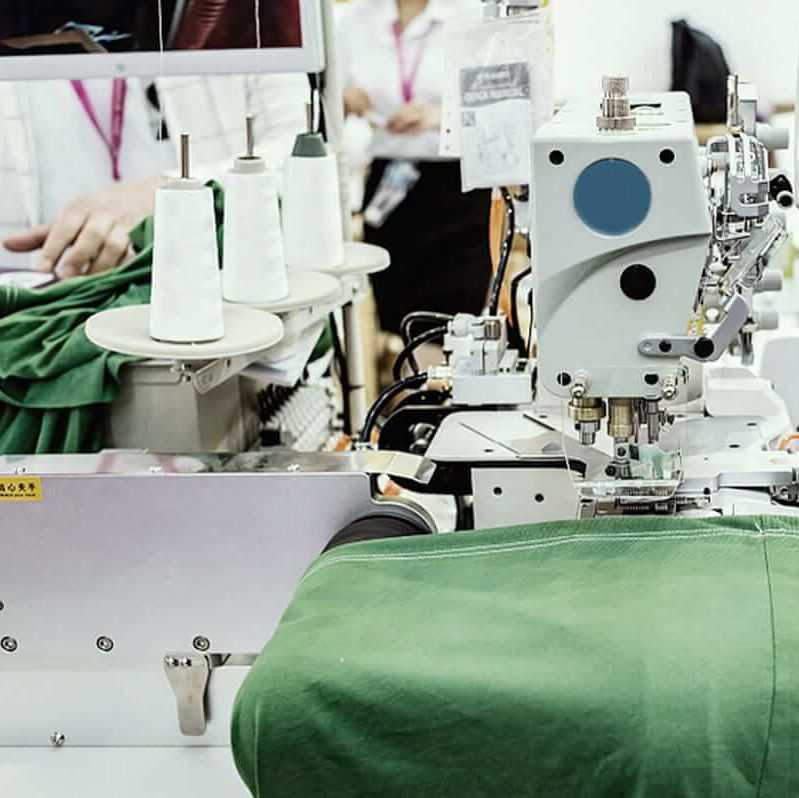 ©HelloRF Zcool/shutterstock.com
Case Study
Reduction of complexity through standardization
In China, the "made in Germany" label stands for innovative strength, quality and a high level of development competence on the part of the manufacturers. A textile machine manufacturer wanted to reduce the variance and complexity within the product portfolio. The main goals: reducing costs and strengthening the position in the Chinese market. With the China expertise of ROI-EFESO, a solid, regional supplier network was created in a short time.