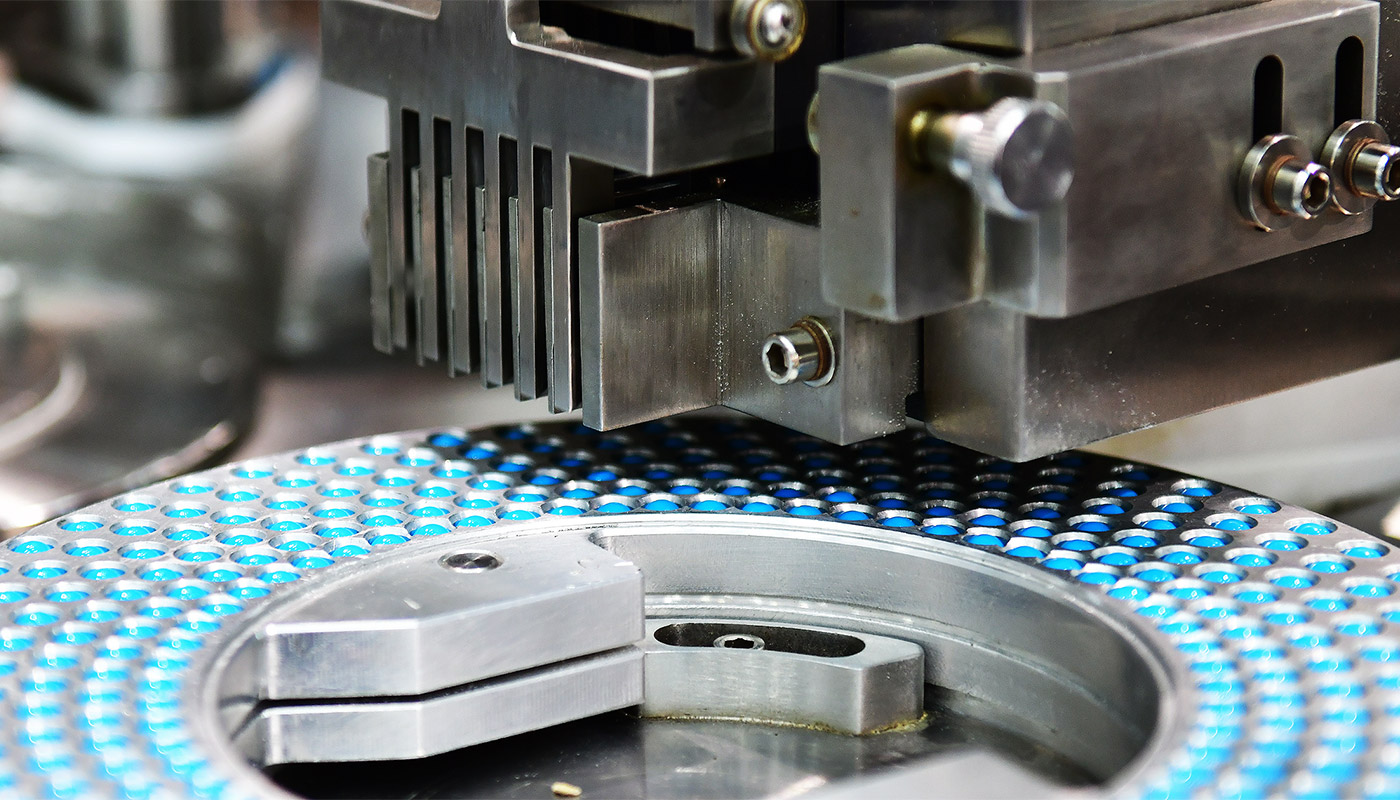 Recipe for success for the Industry 4.0 transformation
A pharmaceutical company gears up for new markets
A manufacturer of thickening, binding and coating agents is established as a reliable supplier in the pharmaceutical industry. Innovativeness and a pioneering spirit are integral parts of the company's DNA - accordingly, it is setting its sights on larger markets and new customers. Stable, harmonised and efficient processes that such scaling requires are in place. The aim is to further increase an already high level of maturity in this respect. The roadmap: Achieve a leading market position via end-to-end customer integration and fulfil the growth strategy.

With the first test pilots for the use of smart analytics, RFID trackers and a customer portal, the company is already on the right track. Because without digitalisation or Industry 4.0 technologies, the goals set cannot be achieved. But which investment actually pays off and when? How can the measures be integrated quickly and effectively into ongoing operations? This is where the ROI-EFESO team comes in. Together with the company, they complete three project phases in just 12 months: An Industrie 4.0 assessment is followed by an Industrie 4.0 transformation with target architecture and planning, and finally the implementation of all measures, including the implementation of the new technologies.
Recipe for success for the Industry 4.0 transformation
Conquering new markets with scalability and resilience
As a producer of pharmaceutical excipients, the company is familiar with the challenges of a complex and highly regulated market environment. However, in order to win customers in new markets and be successful in the long term, a solid, linear performance is not enough. After all, there can always be exceptional drops in turnover and capacity utilisation. In this case study, the company itself developed the right recipe: namely to focus all measures on making its organisation more scalable and thus strengthening its resilience. An exemplary approach, because after all, scalability means not only being more efficient, but also more standardised, more harmonised. And stable, practised, digitally mapped processes do not limit the scope for action in critical situations or difficult times, but rather strengthen flexibility and the ability to reorganise.
In addition to this long-term orientation, the company also keeps an eye on the "here and now". It is aware that the principle of "shorter, scarcer, faster" is dominating more and more areas of activity in the market: the lead times of products, especially in development, are constantly decreasing. In addition, many patents are expiring and patent periods are shortening. The timing market, in which licences expire for medicinal applications and generic production then starts, is also moving towards tighter cycles. The generics market in particular is crucial for the company's growth plans. Although it currently plays a subordinate role, it must be served to a much greater extent in the future. This in turn requires becoming much more efficient and flexible in this price structure. Especially through cost reductions, which the company wants to bring about through digitalisation. But also through new "digital services" for customers and their real-time integration into the value creation process.
Three phases to Industry 4.0 excellence
Even before the start, the general directions for the project were clear: to achieve "efficiency and harmonisation" with regard to vertical networking of machines and technologies, to further improve the existing IT systems and manufacturing processes and to use new Industry 4.0 technologies for future-oriented digitalisation. At the same time, the focus is shifting more towards the customers. They are to be more closely involved in order processing, for example by tracking the production and delivery status of their goods via track & trace. This is a win-win situation for both sides; the customers can plan better and the company can calculate more precisely when it comes to pricing.
To achieve these and other goals, the company strengthened its project team with the consultants from ROI-EFESO. They not only contributed their expertise from comparable projects in the industry, but also structured the project into three successive phases. After an Industrie 4.0 assessment and the subsequent Industrie 4.0 transformation, the team implemented several steps - including the application of all technologies and measures in the operational business.
Industry 4.0 Assessment: Target image for the overall architecture as a starting point
In the first phase, the project team identified digital tools that ideally fit the company's existing manufacturing processes and technologies and contribute clear added value to achieving the project goals. In doing so, it not only identified nine suitable tools such as blockchain or edge/cloud analytics, but also answered the question of how they are located in a "solution framework", i.e. a target image for the overall architecture.
In this assessment phase, the project team benefited in particular from the consultants' know-how on how new technologies can be optimally integrated into the production of the process industry. With reference to the market, all tools were checked for two aspects, among others: What is actually possible and useful? And what costs can be expected? In addition, the project team determined how new technologies can ideally be integrated into existing processes and infrastructures. And identified gaps and weaknesses that can be closed by means of digitalisation.
Industry 4.0 transformation: Exploiting existing resources
In the second project phase, the focus was on transferring the assessment results into concrete implementation formats. For example, on the topic of "Infrastructure Design": Which current pain points - for example in terms of rejects, machine stoppages, volatility in capacity utilisation planning - can be reduced or eliminated? An important finding was that many improvements can already be realised with the existing SAP / ERP / MES systems. So before using "fancy tools", it is always worth taking a critical look at the use of the existing systems.
However, the project team did not stop at just naming the potential. They also drew conclusions about the possible effects at the methodological level, e.g. in concrete production programme planning, shift planning and scheduling.
Process" method proved to be a particularly valuable procedure. In just two months, the project team made all relevant "end-to-end" processes transparent, both horizontally and at all levels. For example, it walked through the entire business process with the employees on the shop floor, both in terms of workflow and material flow. And this starts with planning, not with goods receipt: How are the planning levels structured? With which lead time, with which methods and systems is planning carried out? How is the shift plan for a day finally created on this basis? The team used a similar procedure to also consider the horizontal level. Here the focus was on sales: What are their development goals with the customers? Where is the market heading, in the short, medium and long term? What strategy(s) are already in place to survive in these scenarios?
Industry 4.0 Use Case: Reduce Out of Spec in Bulk Batches
Following both project phases, the company put several new applications and methods into practice. The use of real-time data analytics, for example, proved to be particularly helpful. The goal here is to detect anomalies at an early stage that indicate possible machine failures or microstops.
Such pattern recognition also helps to reduce "out of spec" production. In this case, for bulk goods in powder form, which the company supplies to its customers as raw material in drums. Both the position of each barrel and the condition of its contents can be monitored by sensors: 24/7 it is possible to call up under which influences (temperature, humidity) the goods have been where and for how long. If there are extreme temperature fluctuations or the powder is stored for too long in poor conditions, it can lose the required quality and thus become unsuitable for delivery to the customer as "out of specification". Without this information, there is a risk of producing complete rejects over a longer period of time, from individual drums to entire batches. Real Time Data Analytics prevents this, and the customer can also access this information digitally on demand. Including the Electronic Batch Record (EBR), which contains the complete production, material feed and process data.
Combining existing options with new technologies
In all project phases there were valuable "aha experiences" for the project team and the staff. One important insight has already been mentioned: Potentials can not only be tapped with Industrie 4.0 technologies such as augmented reality (AR), artificial intelligence (AI) or Holo Lense - but also mobilised from existing standard systems.
In addition, the project with ROI-EFESO made it clear that with current ecosystems and platforms, the necessary information can be generated and networked much more quickly and easily from the lowest machine level than was possible a few years ago. In the case study, the connection of the EWC with blockchain technology in particular proved to be a groundbreaking innovation. The company learned that there are several blockchain variants. It now agrees on different smart contracts with its customers that define and secure the scope of data exchange from the digital product twin.
In this case, the ROI-EFESO team was challenged in its role as a sparring partner, bringing new impulses and perspectives to an already high level of performance. The project partners in the company had a clear "creative demand" that went beyond a consolidation of information: What can be done better in our processes, production and IT systems? How do we bring ideas on the use of technology into implementation? What ideas or approaches do we not yet have in mind?
In the project, the ROI-EFESO team relied on flexible, scalable ecosystems as the technological framework for everything the company wanted to introduce in its Industry 4.0 transformation. Instead of large, bulky "MES monoliths", there are now a few manufacturing apps that are used as micro services in the overall platform. This approach allows for a completely different scalability, flexibility and cost representation - and not only in this case study ensured that the company engages its existing customers with stable digital processes.