The central management tool in the context of lean production, smart factory and Industry 4.0 is Shopfloor Management, the 'on-site leadership'. Without effective Shopfloor Management, lean, OPEX and digitization initiatives in manufacturing are limited to procedural and technical changes that jeopardise operational effectiveness and sustainability. A Shopfloor Management system secures and stabilises the operational control of value-adding processes by providing clear structures, stringent process organisation and working standards across all company hierarchies.
The starting point is a cascade of indicators that enable clear and coordinated targets for operational areas. The objectives are supplemented by results and process metrics in order to be able to uniquely translate abstract KPIs into editable process metrics. With this key figure cascade, process key figures and target/actual deviations can be clearly and transparently recorded and measured at every company level in order to be able to initiate targeted stabilisation and improvement measures (kata).
At the same time, Shopfloor Management also serves as a gauge of the implementation success of the Kaizen philosophy of continuous improvement. Recurrent, usually short-cycle and small-scale problems on the shopfloor and inertia of the improvement activities are proof that the actual problem causes are not being addressed but only the symptoms. This situation also typically occurs when comprehensive system changes are implemented, but the new operational level processes are not stabilised, supervised, constantly improved and communicated by the responsible managers together with the work team.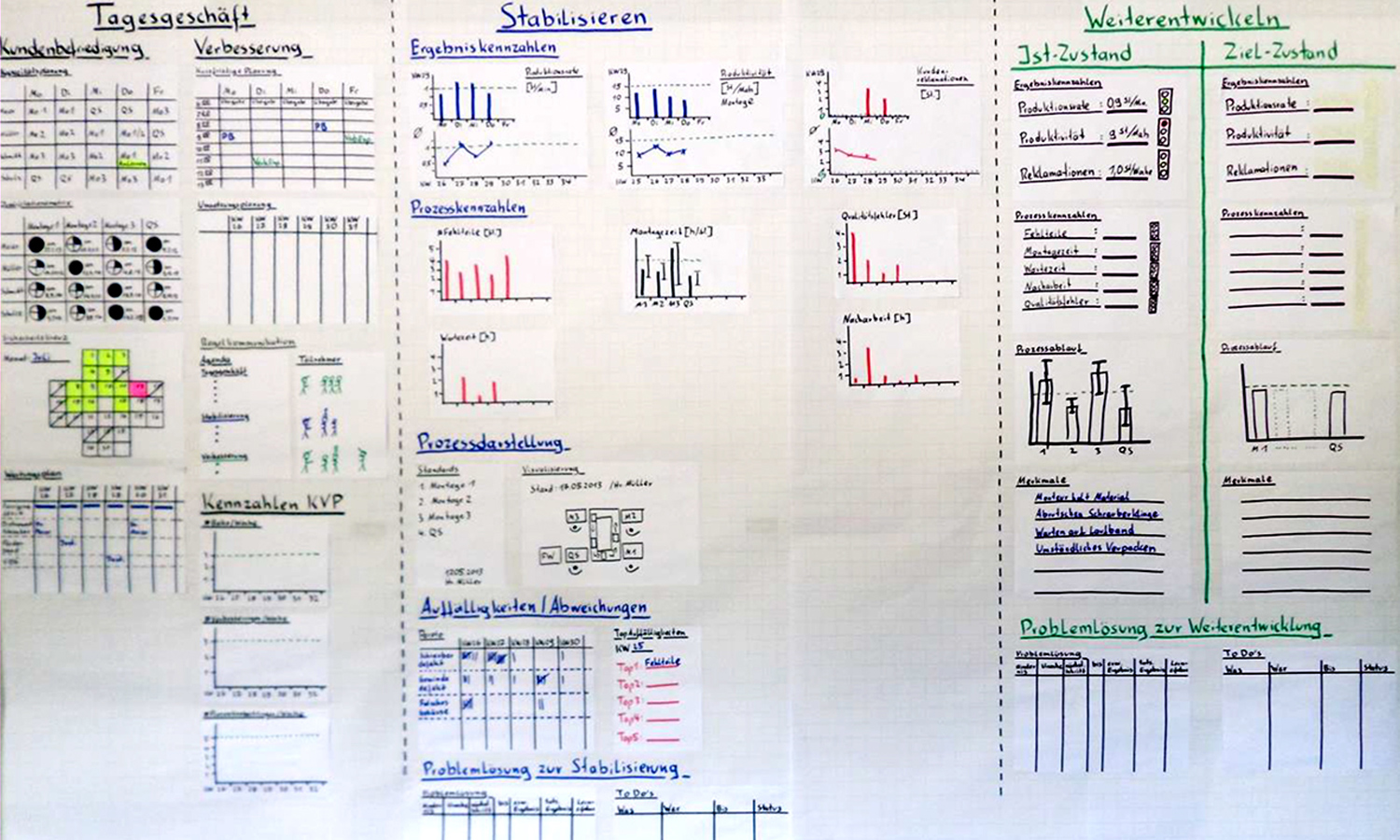 ROI helps companies on the way to a culture of continuous improvement through a holistic and practical optimisation of Shopfloor Management. The following issues are at the forefront:
Maturity analysis based on the success criteria of Shopfloor Management and definition of company-specific deployment plans
Development of a roadmap for the introduction of Digital Shopfloor Management using Industry 4.0 technologies (acquisition, filtering and visualization of central parameters, cockpits, interaction platforms, etc.)
Implementation and company-specific adaptation of best practice structures, methods and tools for effective Shopfloor Management
Practice-oriented and didactically sound training and qualification programs for the managers of operational units
Active and practical support of the implementation