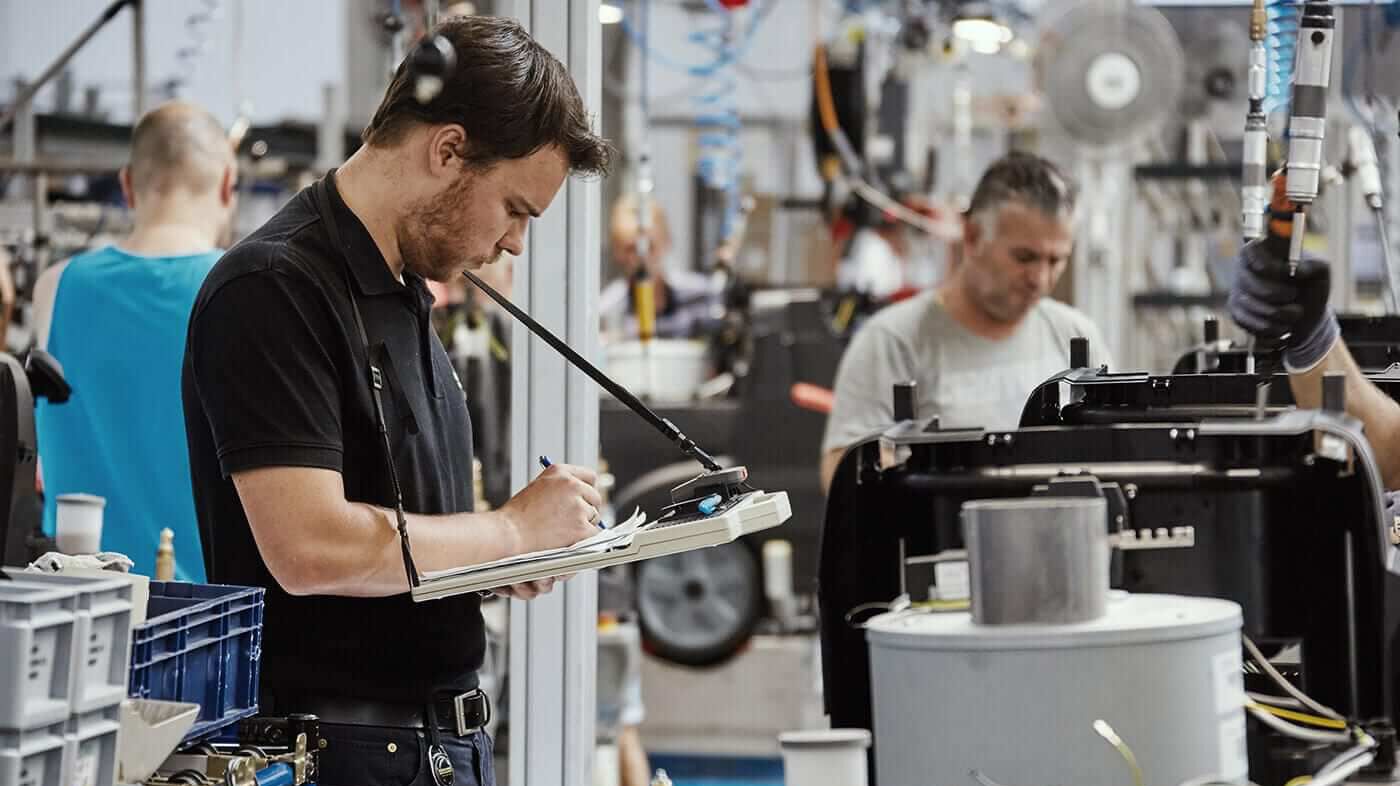 Lean Training / Shop Floor Management
Lean practices on the shop floor
As part of the ROI-EFESO lean training program, an industrial group improved its added-value processes at over ten locations. The program did more than just round out the different levels of knowledge that managers had about lean thinking. It also translated theory directly into working practices on the shop floor by taking a multiplier approach – and it started on the very first day of training.
Lean Training / Shop Floor Management
The corporation had previously introduced a new production system in its manufacturing divisions through Operational Excellence (OPEX) activities. At select factories, workshops were then scheduled for various OPEX topics, starting off with lean principles and shop floor management. The focus of attention here was on the 5S methodology, which in this case by adding on the step "safety" ended up following six lean principles: "sort," "set in order," "clean," "standardize"," and "self-discipline and continuous improvement."
Lean management with a shared focus
Twelve managers in total from the plants were then to be trained to become multipliers in ROI-EFESO's train-the-trainer module so that they could transfer their lean and 6S expertise quickly to their manufacturing teams within the organization. The special challenge here was to first standardize the managers' already excellent knowledge of lean principles. To do that, the ROI-EFESO trainers worked with the twelve managers to develop a target image for the 6S measures in which they collectively defined each core concept: for the term "shop floor management" they agreed, just to give one example, that this should primarily be visualization followed by planning and routine review of standards.
The participants formed four groups of three members each for the four-day training program. In turn, a team of up to five employees from production was assigned to each group, which meant that the multipliers were collaborating with roughly 15 other employees while offering instructions along the way. Two ROI-EFESO trainers not only provided theoretical input but also supported the multipliers and their teams in the practical application and internalization of the knowledge gained.
Shop floor instead of PowerPoint
To accomplish this, ROI-EFESO conducted 70 percent of the training units on the company's shop floor. Each day of training started with a brief theoretical component accompanied by new learning material or further exploration of the previous day's lessons. Unlike similar lean trainings, the managers then themselves had to develop practical exercises for this theoretical content and test them out directly in the shop with their team members on the same day. But there were no overly intellectual PowerPoint presentations or simulations to start. Instead, the teams worked on a "living object" from the active production process. The ROI-EFESO trainers and coaches fully supported the day's events with observation and feedback. The teams were therefore able to directly implement the 6S lean principles right away and quickly learn from their own mistakes as well as their own thought process. To that end, the training concentrated on three areas:
Applying lean principles in practice
Identify waste; uncover any discrepancies with standards; understand improvement routine.
Moderate 6S workshops and guide employees in implementation of 6S as part of the new manufacturing system
Establish technical procedures for 6S; identify and address resistance to implementation; create a pattern of success and therefore self-confidence among employees for independent implementation.
Support introduction and operational implementation of shop floor management
Understand the interaction between result and process KPIs; independently derive KPIs; gather experience with target conditions; work with experimentation table and focused, near-process coaching.
Coaching enhances learning
With this method, ROI-EFESO trainers took on a double role, serving as both technical trainers and, more importantly, process coaches. In this latter role, they provided not only feedback on the effect of the lean exercises and activities on the production line. The multipliers were also given personal feedback from their coach on which phases in the change process they need to pay particular attention to as a manager.
Best practice: applying 6S within the team
By example, the effectiveness of this method can be seen from the first day of training in a mini-project from the manufacturing division's shipping department. This is where employees have had to package a wide variety of products and handle packages with an equally diverse number of sizes and weights. With massive capacity peaks at the end of the day, the unfinished orders quickly piled up.
Using 6S, the multiplier group was then able to identify on-site where valuable time was being lost, say, in searching for cardboard boxes or maneuvering packages with a forklift. By reassigning workstations and storage spaces, the team corrected these weaknesses that same day and improved other minor work procedures. These actions proved to be valuable and helpful in setting the stage for future changes both here and at the other practice stations in the training program because the line workers were involved at the earliest possible time. For instance, not only were directly practicable ideas brought into play, but from the very start there was also a great deal of motivation on the operational team's part to implement the 6S measures.
Lean successes for the long term
After three months, the multipliers reconvened with the ROI-EFESO trainers on-site to go over the results and progress of the initiated changes. After all, the four intensive days of training were not simply meant to be a one-time flash in the pan but to create a lasting impact. ROI-EFESO provided the initial impetus and enabled managers to identify concrete starting points for lean management processes and maintain any improvements made. ROI-EFESO ensures the long-term effectiveness of the training by taking other measures as well. This includes documentation for participants as well as follow-up interviews to consider whether expectations were met, to answer any unresolved questions, or discuss ideas on the further rollout of the training.